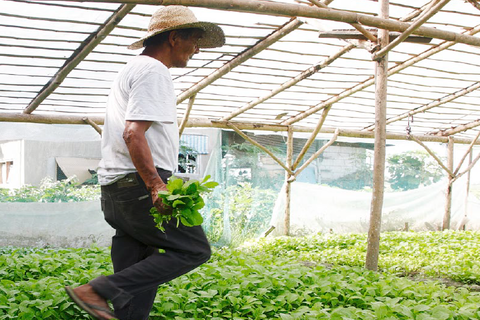 What it is

Good Food Community is what you might call a benevolent middleman. It connects a community of farmers with health-minded individuals who commit to finance an entire harvest in return for the fresh, organic produce grown on the farm. The concept, called community shared agriculture (CSA), helps farmers by essentially pre-selling or guaranteeing their harvest, while consumers—who Good Food Community refers to as "shareholders"—are also guaranteed weekly deliveries for a fair price. But, more importantly, both farmers and shareholders are brought together into a community that, its organizers hope, will care better for its members than the traditional mass-market setup.

How it started

Charlene Tan and her friends at the Christian Life Community of the Philippines were looking for an apostolate to work with, and the concept of CSA resonated with her personal interest in sustainable living. They launched in 2010. Tan admits the first attempt at setting up Good Food Community fizzled, and the group had to take a break to reorganize. The team now includes Tan as CEO; Drei Castillo, who coordinates with farmers; and Ernest Barreiro, who takes care of the operations. They now have 84 shareholders and work with 56 farmers in Tarlac and in Benguet. They also have 12 Metro Manila community hubs, where deliveries are picked up weekly by the shareholders.

Why it took off

"Good Food Community is about building an alternative, shaping a new kind of market, and enabling a culture of sharing," Tan says, noting that the existing systems aren't favorable to farmers, with many used to practices that are harmful to natural resources and ecosystems. That's why she made sure Good Food is built on collaboration, accountability, and strong relationships. "I think prioritizing this helped us grow organically," she says.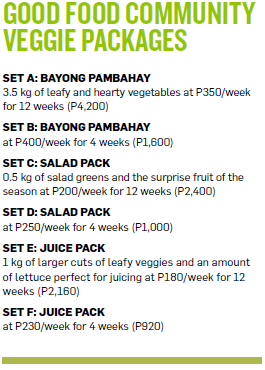 The business case

Tan says there's no fixed percentage on how much of the subscription proceeds goes to the business to cover expenses, but 100 percent of the profit after expenses is reinvested in the enterprise. At this point, she adds, Good Food "often breaks even," but when it comes to the bottom line, involving "people, profit, planet—I believe we're in the black."

What's next

Tan says Good Food is looking to establish a system to ensure the quality of the produce. "We're constantly looking for ways to make the produce more accessible and to make farming more sustainable."

It has also been able to score partnerships with organizations like the World Wildlife Fund, which gives Good Food subscriptions to donors.

Tan notes that CSA has a big potential in the Philippines, and Good Food is willing to help out future CSA groups.


Photo: Good Food Community

ADVERTISEMENT - CONTINUE READING BELOW
This article was originally published in the February 2014 issue of Entrepreneur magazine.

Subscribe to the print or digital version of the magazine here.