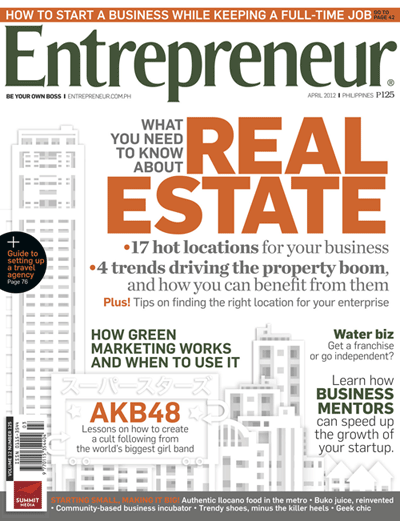 Worrying about where you will open your next big business idea is part of the reality of establishing something on your own. And while location is not a guarantee of success, it plays a major factor. For the April issue of Entrepreneur Philippines, we talk about the trends driving the real estate market. We also give advice on how to find the best commercial space for your startup.
ADVERTISEMENT - CONTINUE READING BELOW
Learning about entrepreneurship takes more than reading books or attending lectures,  you need to get out there and do it. Guiding this new crop of startups are mentors that teach you how to seamlessly combine classroom work, learning through experience and experimentation. Read how business gurus Jay Bernardo, Benison Cu and Eli Santos are mentoring for success in the April issue. "It\\\'s transformative learning," says Bernard Cu of De La Salle University.  "You can teach them from books and what you know, but at the end of the day, they must apply what they\\\'ve learned."
How are your money goals for the year going? It is easy to get sidetracked and be discouraged about handling your money. In this issue, we give you seven tips on how to free up cash and tackle your financial chores.
Ever wonder how a band achieves cult status? Read the success story of Japanese showbiz idols, AKB48, the world\\\'s biggest girl band and how a simple idea became a huge hit.
ADVERTISEMENT - CONTINUE READING BELOW
If you want adventure, fun and a business, opening a travel agency seems like a natural choice. Buy this issue for our detailed how-to guide on how to open a travel agency that goes beyond tour packages.
Grab a copy of the April issue of Entrepreneur Philippines in bookstores and newsstands nationwide this week.