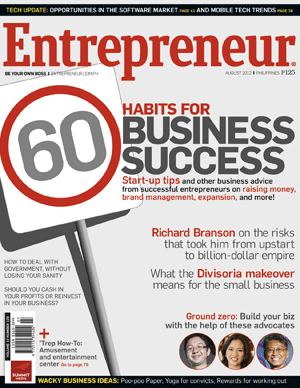 According to research, habits are determined by triggers and routine. Understanding how  habits work is a way to effectively form new, better habits. In our August issue, we list down 60 tips from entrepreneurs both here and abroad for business success. On jumping at the chance, Florante Cruz, the founder of BC Net Inc. , a VoIP service provider said: " I have learned to open my eyes to opportunities and be a risk-taker when necessary. If you always look at what could go wrong, your fear would freeze you into inaction."
ADVERTISEMENT - CONTINUE READING BELOW
Being a start-up is no longer a good excuse to have a bad website. Online content for your website and social media can generate sales leads for your company. Read about how you can improve your site and engage more clients by reorganizing, rewriting and remixing content.
Interested in supplying for the government? Check out page 46 for tips on how apply as a contractor.
The August issue also takes a look at the changing retail landscape of supplier central, Divisoria, with its newly-opened malls like the Lucky Chinatown Mall. What does this mean for small businesses thriving in the area?
For the \\\'Trep How-To guide, learn how to manage an amusement center and know the list of products and services you need to make it a success. Safety is a major consideration since amusement centers are family destinations.
Don\\\'t forget to grab a copy of our August issue out in bookstores and newsstands this week. You can also download past issues here.

ADVERTISEMENT - CONTINUE READING BELOW