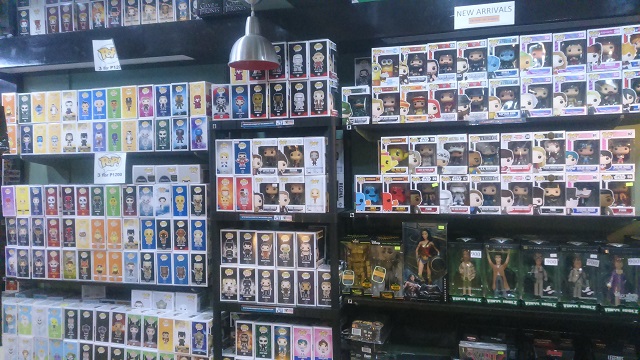 Before entering any business, you need to understand the market first. Fortunately, for Basti Golez, owner of the toy shop Kramer: Toy Warden, this was quite easy given his passion for toys.
We've already talked about how Basti started his toy shop with his brother. Here's what he has to say about the ins and outs of running a toy business.
ADVERTISEMENT - CONTINUE READING BELOW
Knowing your market
Currently, the toy market in the Philippines is slowly growing. This can be seen in the number of shops appearing not just in the major shopping malls but in different areas as well. There are also a lot of local online sellers.
Why are there more sellers? Because there are a lot more buyers now, whether die-hard toy collectors or casual customers.
"There are definitely more collectors," Basti said. "There are a lot of new collectors."
But he noted that there are a lot more casual buyers and walk-in customers also nowadays.
Most of these are fans—not only of a particular product but also of the medium. For example, one can be a fan of both the Harry Potter books and movies. But another can be a fan of the Avengers movies, but not necessarily of the comic books.
Regardless of whether they like the comics or the movies (or both), Basti said, "They like the toys."
ADVERTISEMENT - CONTINUE READING BELOW
Social media is also helping propel the toy business as these fans are informed that there are these toys—and they want to start collecting.
Because of this, understanding what's popular and trending in pop culture is important in this market, whether it's something you've seen at the movie houses or on the TV screen.
Basti pointed out that buyers look for toy merchandise related to movies like the Avengers and Harry Potter, or TV series like the Game of Thrones.
"Game of Thrones is really hot," he said as customers started asking for Game of Thrones product-related merchandise, from plush toys to mugs and pins.
When the recent Star Wars movie came out this year, he said, Star Wars merchandise started selling well also.
This congruence of elements is important to know because before, the peak season of toy selling used to be during the Christmas season. But that's not true now as it depends on what's popular during the year.
ADVERTISEMENT - CONTINUE READING BELOW
One example he cited was the Funko Pop line, which has become popular all-year round.
Another example was during the recent release of the movie, Ms. Peregrine's Home for Peculiar Children, he said, and people asked them: "Meron na ba kayong ganito?"
"We take advantage of that," Basti said.
With this in mind, you need to be always evolving. "You shouldn't be left behind," he said, adding that businesses should always know what's new in the market and make sure they have these products.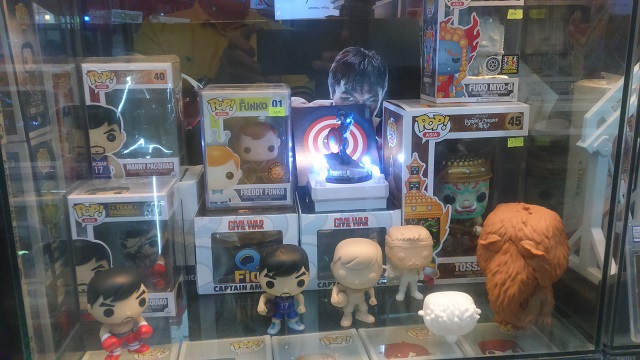 ADVERTISEMENT - CONTINUE READING BELOW
Having an edge
Given the number of toy shops and online businesses that sprouted up recently, Basti expressed confidence that Kramer: Toy Warden could stand out among the competition.
He said their edge was their customer service, like delivering a personal touch. He also said they go out of their way for their customers in referring them to other toy shops if they don't have particular stocks or products.
"I always believe there are benefits in competition," he said.
It's also the little touches that turn customers into regulars—and even into friends. He related that they installed a couch in their Greenhills branch so that customers who had girlfriends and wives had someplace they could sit and wait.
Before, he said, they would see these customers at least once a month; now, they'd see them regularly. Moreover, he added, "Their wives are buying their own collections." They would use the couch to inspect the toys they wanted to buy.
ADVERTISEMENT - CONTINUE READING BELOW
The couch has also served as a place for meet-ups by various toy groups who favour GI Joe toys, or Funko Pops, he noted.
Having products that other businesses don't have—or having them first—is another one of their selling points. "We try to be first with products," Basti said.
"We have more choices, items only available with us," he said, like products related to the video game Overwatch, or the Rick and Morty cartoons. They even picked up the Golden Girls toys though "Wala talagang bumili," he added, laughing.
"Kahit konti, kumukuha pa rin kami," he said. Knowing the trends and what their customers want, he added, means they can upsell.
They also try to offer products that have aesthetic appeal, as well as limited edition or exclusive items that die-hard collectors may be interested in.
Because of this, they get their toys from distributors or buyers abroad so that they can get hold of toys not released locally, like convention exclusives.
ADVERTISEMENT - CONTINUE READING BELOW
Finally, they price their products competitively against the market: not so high that they'd overcharge their customers, but not so low either. "We're very conscious of that," Basti explained.
Since they know a lot of their market is always online, they ensure that people see them constantly, from being active on Facebook and Instagram, to using FB ads, and even being active on toy forums.
Your name against troubles
However, the toy business is still a niche market, he warned. He'd seen some toy shops close because they don't take care of their customers.
Likewise, because their business relies on shipping, dollar-rate and importation, they've encountered some troubles related to these in one form or another.
He related that last year's widespread problems at the Bureau of Customs meant their new shipments were delayed. When that happened, he said, their customers were relieved to know that they could still count on Kramer: Toy Warden's brand of delivery, as the business has proven its ability to cope with all sorts of challenges that rise through the years, as best as it can.
ADVERTISEMENT - CONTINUE READING BELOW
*****
Joseph Nacino is an editor and communications consultant who has worked for the Department of Budget and Management, Philstar.com and various corporate clients. A Neil Gaiman Graphic Fiction awardee, he writes short stories and has been anthologized in the Philippine Speculative Fiction series, and co-edited Diaspora Ad Astra and Demons of the New Year.