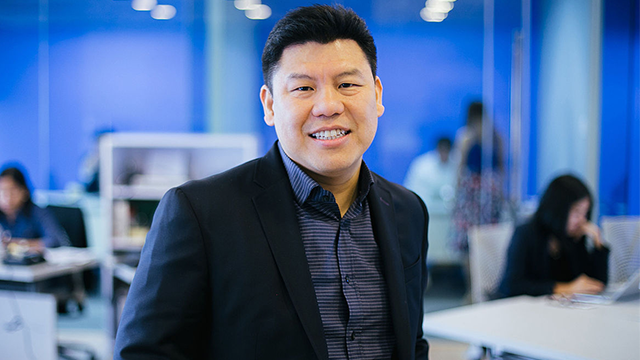 If you can't beat them, join them, the saying goes. PLDT chief strategy officer Winston Damarillo tried to do the former. Well, sort of.
After failing to get in Intel 10 times, Damarillo designed a software that will enable video conferencing between computers and mobile phones, a decade earlier before Skype was launched, Forbes Philippines wrote on its July issue.
ADVERTISEMENT - CONTINUE READING BELOW
"Well, I'm not from Stanford, but I wrote this software, which I think you can use. And if you want the software, you have to hire me first," Damarillo said.
This gutsiness has not waned one bit, more than two decades later, as he leads the largest telecom service in the country, PLDT, to a "digital pivot," equipped with platforms and startups for the mobile users of the future.
Related: Manny Pangilinan: PLDT on track with digitalization 
The triumvirate
In a bid to cater to the changing demands and needs of consumers, Damarillo headed PLDT's slow transformation to digital by introducing three key products.
First in line was PayMaya, a new platform for customers to use online money. The telco introduced the reloadable prepaid card in August 2015 to cater to the 69 percent of the Filipino population who remain bankless.
The card enables users, who were once disconnected to the e-commerce industry, to purchase goods online and transfer cash too.
ADVERTISEMENT - CONTINUE READING BELOW
And with a bigger customer base comes a platform for enterprises—Takatack. The online marketplace gives various merchants a chance to set up online stores for a better online shopping experience.
And the last part of the digital triumvirate is Market Builder, which as the name suggests, allows big enterprises to directly reach consumers with one click. Any establishment may send a text brigade to nearby users for possible discounts, creating a market in an instant.
"It's something new and that now signals that we're beginning to look less like PLDT and more like Google, Amazon and Paypal," Damarillo told Forbes Philippines.
Damarillo's rich experience in Silicon Valley has equipped him with deep insight on how to manage the fast-changing world of digital startups. He has handled seven companies in his entire career, so far. The first three, Gluecode, Exist and LogicBlaze, were all acquired by the biggest tech companies in the world, from the US to Ireland.
ADVERTISEMENT - CONTINUE READING BELOW
Such ability to build companies from scratch and pique interest from the biggest names in the digital startup scene was enough reason for PLDT CEO Manny Pangilinan to tap his expertise to lead the telco company's digital transformation.
Digital revenues only account for 10 percent of the company's total, which they hope to grow by 20 to 30 percent in the next two years, in line with the three-year crucial transformation of the company.
Related: PLDT opens largest data center in PH 
"When I started consulting (with PLDT), I basically said that while the telco industry is in decline, the telco has the most potential to make revenue from digital services," Damarillo said.
The chief strategist's latest company, Amihan Global Solutions is an expert in transforming companies to digital leaders through key strategies. Its services has been tapped by companies from the Philippines, Indonesia, Malaysia, Singapore and Japan.
And it looks like it's on track to changing the tide in PLDT's shores.
ADVERTISEMENT - CONTINUE READING BELOW
The company recently formed a venture capitalist sector called PLDT Capital, which has invested in five companies so far: online streaming platform iflix, customer engagement platform Phunware, rewards program AppCard, app developer Hopscotch and mobile wallet platform Matrixx.
"When you're a telco company and you stop thinking like a telco, the world's a much more exciting place," Damarillo said.
*****
This article originally appeared in the July 2016 issue of Forbes Philippines magazine. Minor edits have been done by Entrepreneur.com.ph
Photo by Johnpangan via Wikimedia Commons