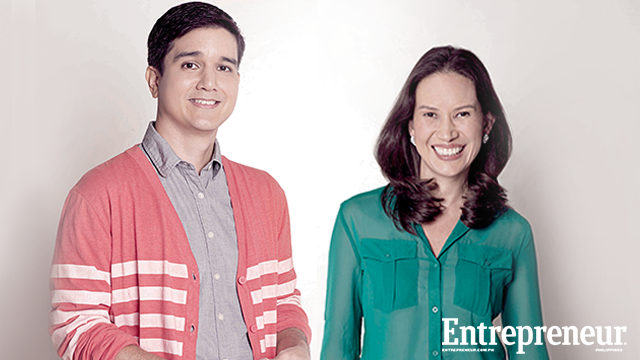 Who knew that being "dragged kicking and screaming" into alternative health practices would one day help Katharina Rempe Azanza and her husband David Azanza in business? Their complementary brands—detoxification juice delivery Juju Cleanse and dedicated salad joint Juju Eats—would not have been possible otherwise.
The couple has practiced juice cleansing for years, particularly Kat, whose parents, Eckard and Perla Rempe, founded holistic retreat The Farm at San Benito in Lipa, Batangas in 2002. "When my parents were conceptualizing The Farm, we were very much involved in the process. We were the original guinea pigs," says Kat.
ADVERTISEMENT - CONTINUE READING BELOW
In fact, Kat had turned vegetarian early, but had felt slightly rebellious against the veganism and detoxification that her dad ("the original Juice Nazi," she jokes) insisted upon. "Having that experience, it makes you understand what it's like to be pushed into something that you're not ready for," says Kat.
Kat's dream was to create a gentler introduction to healthy life choices. David, meanwhile, practiced balance and moderation. Both believed in empowering the individual to be responsible for their own health.
When the Azanzas came home from China in 2010, it seemed an opportune time to try out novel business ideas. "Frankly, we were coming back to nothing… I figured, just go for it," recalls David, who says he immediately started testing several business concepts, including Juju Cleanse, under the banner of Feelgood Inc. "We had a deep awareness and understanding [of the practice], and habitual juicing [was] happening in the family already," he adds.
ADVERTISEMENT - CONTINUE READING BELOW
When the juicing business exhibited more growth than the other business concepts, David decided to concentrate their efforts there. "The Farm is far away, it's expensive, it takes a long time to really do the program [there] properly, and we wanted to do something that was more convenient, more accessible, [and] more cosmopolitan," he says.
The Juju Cleanse program—which allows customers to choose their cleanse level and duration—was formulated by Kat, with help from David, and consultations with an in-house nutritionist and doctors at The Farm. "We developed the three levels for people to choose from, when they felt that they were ready," explains Kat.
The first two years were rough: working from the Rempes' small kitchen (and later extending to the laundry area), delivering to the client's door as late as 10 PM, and at peak, during Lenten season, entertaining calls from clients as early as 4 AM. But they'd sunk Php 250,000 on equipment, and so they doggedly persisted.
ADVERTISEMENT - CONTINUE READING BELOW
Despite skepticism from some quarters, orders steadily poured in. They started expanding operations to encompass most of Metro Manila, even going so far as to tie up with City Delivery to reach clients beyond the drop-off zones.
Juju's popularity spread so wide that the Azanzas were able to stretch the concept to include another brand, Juju Eats, in 2013. From five juice cleanses for Juju Cleanse, Feelgood Inc. now offers 15 unique beverages, 10 à la carte salads, and extensive fixings for DIY salads, at Juju Eats. Those who have tried the cleanses can continue to feel good about themselves by eating healthier food "at the same price point as an extra value meal at a fast food," David points out. Those who eat at any of the restaurants can try the juices as refreshments, or perhaps sign on for the cleansing program.
A salad joint seemed so far-fetched that few realtors were willing to bet on it, saying "Pinoys don't eat salad," or incredulously asking, "Walang kanin?" But the Azanzas found a spot along Pasong Tamo. Once it clicked, they used that as "proof of concept" to build another branch at Eastwood City Cyberpark in Libis, Quezon City, and at Rockwell Business Center in Ortigas, Pasig.
ADVERTISEMENT - CONTINUE READING BELOW
"We were lucky. It was below the radar of most Pinoys [because] it's so weird," says David, noting that The Farm had already been cold-pressing juices, and that there were salad-focused establishments abroad. "So it's not like we created it, we just helped to popularize and bring it into the consciousness [of the general public]."
*****
This article originally appeared in the October 2014 issue of Entrepreneur Philippines magazine. Minor edits have been done by Entrepreneur.com.ph