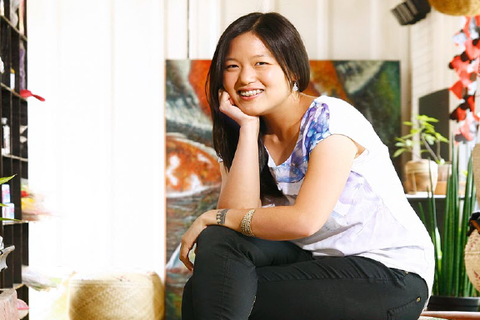 <>Got Heart Foundation may have been built to help the less privileged. But the foundation would rather help those who show sincere effort to pull themselves out of poverty.
The brainchild of high school students from the Immaculate Conception Academy in Greenhills, San Juan City, the foundation got off the ground in 2001. It was then called Concerts for Charitable Causes. By 2007, the organization had moved from conventional volunteer work to grassroots social-enterprise development—with a new name to match, one that founder Melissa Yeung says is "dedicated to all those who have shared their hearts and helped us in the past."
Got Heart Foundation tries to bring opportunities to marginalized rural communities. Its main social enterprise, for instance, is a project to help farmers grow natural and organic produce. It also helps farmers market their goods.
Be a leader, not a crutch
By building support systems and programs, Got Heart seeks to empower target communities to be "sustainable, holistically developed, independent and dignified—or Shindig," says Yeung.
"Shindigs also mean celebrations. We want to celebrate culture and talents," she says. "Our job as a foundation is to find these 'hearts' and hone them. It is only when they work for their success and stand on their feet can they really be respected and have dignity."
Yeung likens Got Heart to any well-oiled corporation—except that the dividends it earns bankroll social enterprises. Collaboration with partner communities ranges from training and research to sales, marketing, and financial management.
Find birds of the same feather

When it first started, social entrepreneurship wasn't the buzzword it is today, so getting Got Heart's message across and finding like-minded recruits ranked among its top concerns.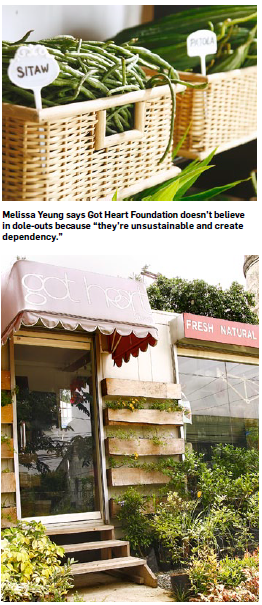 "There weren't a lot of people who understood what we were trying to do," Yeung recalls. "The vision was clear, but the road to get there had to be cleared several times."
Today, the foundation's volunteer program, Project Tinman, lets people lend a hand in their area of expertise. "We believe that a lot of people have heart—a lot of people want to help but don't know how. We also want Got Heart to be a home to all those people," says Yeung.
The foundation works closely with as many as 92 groups in both the private and public sectors: these include partnerships with Katinko Ointment, the Peace and Equity Foundation, Philippines for Natural Farming, the Department of Trade and Industry, and the provincial government of Tarlac.
Savings and saving Mother Earth
In November last year, the foundation launched a landmark project—a Got Heart shop in Quezon City. It opened another one in July this year. The store showcases goods sourced from farmers and indigenous communities, assuring them of a venue where they can sell their produce at a fair price, Yeung says.
The shop also doubles as a platform for the communities to get feedback about their products and ensure they always have ready buyers, she adds.
Photos: Jun Pinzon

This story was originally published in the October 2013 issue of Entrepreneur magazine.

ADVERTISEMENT - CONTINUE READING BELOW