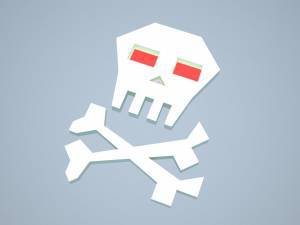 Microsoft unveiled details of a forensic study on malware threats that examined name-brand PCs with pirated software installed, as well as counterfeit software DVDs, sourced from Indonesia, Malaysia, Philippines, Thailand and Vietnam. The study, which extends research originally conducted in December 2012, examined a total of 282 computers and DVDs—more than double the original sample—and found an average malware infection rate of 69 percent, an increase of six points over the preliminary study.
Findings from Microsoft's Security Forensics team further revealed pirated copies of Windows embedded with malware spread across numerous well-known PC brands, including: Acer, Asus, Dell, HP, Lenovo, and Samsung. Microsoft believes that neither the counterfeit images nor the malware originated from—or were installed by—the individual PC manufacturers. Rather, the computers were likely shipped with non-Windows operating systems, which were later replaced by individuals in the downstream supply chain or retail channel who deal in the illegal duplication and distribution of pirated software.
ADVERTISEMENT - CONTINUE READING BELOW
"Many people assume that buying a name-brand PC is all that's required to guarantee a good and safe computing experience. They don't think twice about the software sold with the computer, and whether or not it's pirated," said Keshav Dhakad, Microsoft's director of Intellectual Property for Asia Pacific and Japan.  "But consumers need to beware: while they might think there are great deals to be had by looking the other way, the hidden cost of pirated software is significant, and contrary to popular belief, can't be remedied by simply running anti-virus software. If a consumer can't verify that the computer they purchased was shipped with a pre-installed, genuine copy of Windows, their risk of exposure to viruses and spyware—and the potential for data corruption, theft, and financial loss—increases exponentially."
According to Microsoft's study, infection rates of pirated software varied significantly across Southeast Asia: the Philippines surfaced at 42 percent, a full two out of every five computers and DVDs tested was infected. In Vietnam, malware was found on 66 percent of the pirated DVDs and a full 92 percent of hard drives tested.
In total, Microsoft's testing revealed 5,601 instances and 1,131 unique strains of malware and virus infections in its Southeast Asia sample—including the highly dangerous "Zeus" trojan.