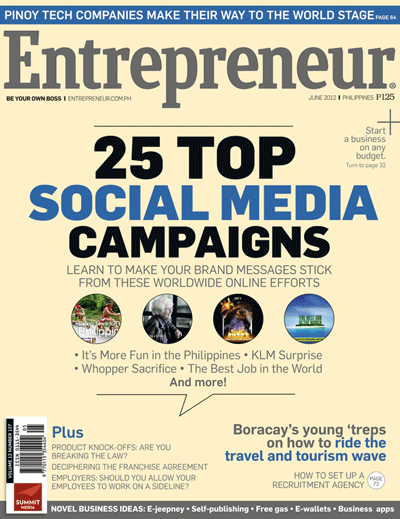 Struggling on how make your brand message known? Get ideas from our June issue on the 25 most influential social media campaigns to hit the Internet. Social media is an exciting way to get your name known be it for the sake of activism, utility, crowdsourcing  or random acts of kindness.
ADVERTISEMENT - CONTINUE READING BELOW
The country\\\'s tourism market is expected to reach its full potential in the next few years. In this issue, read about how to get onboard this trend.  We talked to several entrepreneurs in Boracay on how they are preparing for the wave of visitors expected to come in when efforts to promote the country pay off.
Looking for a business idea? Why not set up a recruitment agency that does more than just connecting people with jobs? You need the right perspective to deal with people and network. On page 72 of our June issue, we give you a detailed guide on how to open your own agency.
Be inspired to make your dream business happen when you read our stories of both experienced and newly minted entrepreneurs making the most of their talent to learn more and grow their business.
Don\\\'t forget to grab a copy of our June issue out in bookstores and newsstands this week.
ADVERTISEMENT - CONTINUE READING BELOW