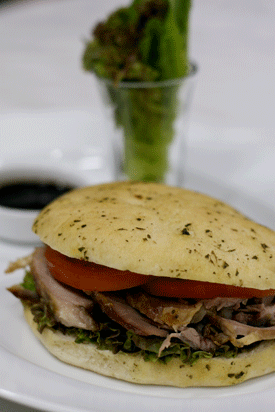 There are specific items that immediately come to mind when it comes to international cuisine. For example, when someone says he or she craves Japanese food, we automatically think of sushi, sashimi, ramen, tonkatsu and tempura. The most commonly known Spanish food items include paella, chorizo and jamon serrano; and those with a hankering for Mexican food will gamely reach for tacos and quesadillas. For Italian cuisine, the usual suspects are pizza, salami, paninis, risotto, osso buco, and the huge variety of pasta dishes.
ADVERTISEMENT - CONTINUE READING BELOW
While these dishes still dominate restaurant menus and tables everywhere, it\\\'s worth mentioning that the culinary scene in Metro Manila (and around the country) has evolved within the past decade. People are becoming more interested in cooking as either a hobby or a profession. Also, food establishments are introducing new dishes that are just as tasty, if not more, than their famous siblings; and roll out unconventional items from other parts of the world. There has been enormous progress, but much work remains on promoting Filipino and international cuisine to the masses.
One of the finalists in The Next Big Food Entrepreneur\\\'s Open Category, La Piccola Chef, started out precisely because of the owner\\\'s desire to go beyond what folks know as typical Italian fare. In an e-mail interview, Chef Meg Victorino explained why she put up La Piccola Chef: "Italian food is not just pizza and pasta. Most of us do not have an idea what Italian pastries are about. Sadly, Pinoys are exposed only to gelato or biscotti (a generic term for cookies, and not just the twice-baked cantuccini that we know here). I then started offering Italian pastries and cakes."
ADVERTISEMENT - CONTINUE READING BELOW
However, that lack of awareness isn\\\'t her only reason. Most people figure out what they want to do for a living later on in life; this 34-year-old chef knew where she wanted to be from the very beginning. "I baked my first cake, unsupervised, when I was in Grade 1," Victorino said. But her true passion would have to wait. "At the time, culinary was not a popular career choice, and coming from a family of lawyers, I was encouraged to follow the more traditional career path," she recalled.
Victorino eventually heeded the call of the culinary world. She started out as an apprentice in a deluxe hotel, despite having taken only short courses on baking and cooking. The long hours she spent in professional kitchens gave her top-level training, and opened up new opportunities — which include helping out Chef Norbert Gandler and the Mandarin Oriental Hotel chefs during a competition in 2000. Afterwards, she finally took up culinary arts alongside her masteral studies in Food Service Administration from UP, then returned to the food industry. Victorino later made her way to Italy for a partial culinary scholarship in 2009, as well as an apprenticeship with Chefs Marco and Andrea Voltolina (the latter was the reigning World Cup Pastry Champion at that time).
ADVERTISEMENT - CONTINUE READING BELOW