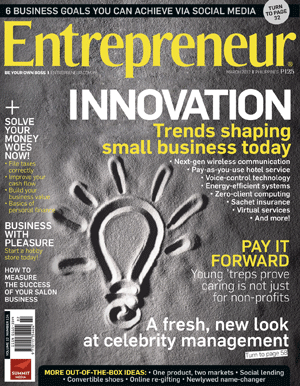 One of the qualities of being a great entrepreneur is honing your instinct for starting a trend or spotting one before it reaches mass appeal. In the March issue of Entrepreneur Philippines, we look at the exciting trends that are shaping small business today from pay-as-you-use hotel service to compressors that slash electricity costs to an emergency care prepaid card that sells affordable coverage.
ADVERTISEMENT - CONTINUE READING BELOW
No doubt about it, social media is useful for new businesses trying to engage their clients and create brand awareness in a cost-effective way. According to Nielsen, the most active social networker is female, aged 18 to 34, likely Asian or Pacific Islander and has a bachelor\\\'s  or post graduate degree. In this issue, we guide you on how you can harness this powerful tool to accomplish six business goals for your company. 
There is no age limit to starting and running a business. For our featured five self-made young entrepreneurs, succeeding meant spotting a trend, acting fast and being flexible to the needs of the market. It also meant not being discouraged by the mistakes made along the way.
In this issue, we also take a look at the business of managing talent and how the numbers mix with the glamour of the music, showbiz and sports industry. We interview the tireless managers that work behind the scenes to make sure their "talent" become big name brands to contend with and endure the test of time. "They are brands- you need to have a vision for your final product, a target market, a marketing strategy to attract that target market, and a knowledge of the product," says Angeli Pangilinan-Valenciano, president of Manila Genesis Entertainment and Management.
ADVERTISEMENT - CONTINUE READING BELOW
Grab a copy of the March issue of Entrepreneur Philippines in bookstores and newsstands nationwide this week.