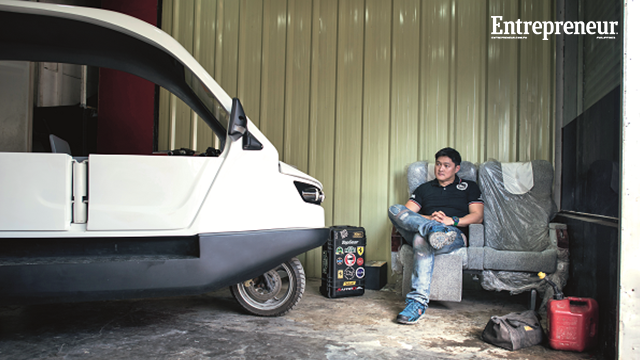 The Salamander is an electric amphibian tricycle. It was conceptualized by a group of friends, including founder Dominic Chung, chief designer Atoy Llave and technical engineer Lamberto Armada.
The project started when, during Ondoy, Llave realized that the Philippine army used regular boats—basic crafts with no bells and whistles—to save lives. For Llave, who is known for high-end car customization, this was a revelation. This inspired him and his friends to create the Rescue Boy, a rescue boat that has all the requirements of the Philippine Coast Guard, including a double hull, compartments for every foot of space, its own walls, and exact weight distribution and buoyancy.
ADVERTISEMENT - CONTINUE READING BELOW
"Approved [siya] ng NDRRMC [National Disaster Risk Reduction and Management Council] and Philippine Coast Guard,  so mayro'n kaming certificate na approved kami," Llave says.
The group presented the Rescue Boy to the Asian Development Bank (ADB), where they were told that there was no need for a boat because many people were already selling boats, but there was a need for an electric amphibian trike—back then, an impossible project.
Llave was against producing it at first because of the huge investment in time, money and human resources needed, but Chung egged everyone on, saying that it was possible. Llave tapped his brother-in-law for an initial investment. To this date, they have spent about Php 8 million for R&D alone.
"Saan napunta? R&D mo pa lang, yung testing na nag sasablay, yung sweldo ng mga artist, engineers, admin. It took us almost two years to develop that," Llave says. "Imagine mo, every month you need to pay your overhead, mga parts na papalitan, hindi nakikita ng tao. Ang nakikita ng tao ay yung finished product, yung prototype. If you check the prototype, hindi siya ganon ka mahal, pero para umabot kami sa point na yun, we spent so much money."
ADVERTISEMENT - CONTINUE READING BELOW
There are currently two prototypes: one for private use (families, friends, island hopping, resorts), and one designed for Local Government Units (LGUs). Both prototypes are available with either an electric engine or a regular tricycle engine.
"Ang objective namin sa pag-design ng LGU model is to help people in times of need," Llave says. "Sa private, more on leisure type. Mas maporma. Pag nakita mo, parang jet ski yung dating. Yung sa LGU, ang target namin is it's purely for helping people. Parang kotse and a patrol car—yung utility, load capacity, speed niya mas mabilis compared to the other. But if a private buyer wants to buy the LGU model specs walang problema, pwede rin, mas mahal lang."
The private model costs around Php 200,000 while the LGU model can reach up to Php. 400,000, "because the specs are higher. Sa private models you don't need a chainsaw or axes; sa mga LGU you need that kasi in times of need," Llave says. "A salamander can replicate what a tricycle can do without the baha. Pero in times of baha, Salamander can float and help people's lives. So that value alone, wala ka nang malalagay na halaga doon eh."
ADVERTISEMENT - CONTINUE READING BELOW
The group is currently looking for investors. "We have 42,000 barangays in the Philippines. Twenty-six thousand barangay ang nababaha, more than half. I can only build 10 units a month at my own capacity. Imagine 26 barangay umorder sa akin ng 1,000 units. How can I supply that demand if I'm going at it on my own? That's why we need investors. We need a two-hectare factory, we need spare parts to be ready, we need an assembly line, and we need an injection mold machine. The machine alone is almost Php 100 million for us to build 50 units a day," Llave says.
At the end of the day, Llave says that it's about helping people. "We don't plan to replace the tricycles. Laging tinatanong sa amin yun ever since we built Salamander kasi. It's inspired by a tricycle. Why? Kapag Pinoy ka, alam mo yung tricycle. Tricycle is known as maliit, can go sa maliliit na eskinita. When the ADB told us to build an electric amphibian trike, a trike can be any size you want, pero naging inspiration namin ang Filipino tricycle."
ADVERTISEMENT - CONTINUE READING BELOW
*****
This article originally appeared in the October 2015 issue of Entrepreneur Philippines magazine. Minor edits have been done by Entrepreneur.com.ph.