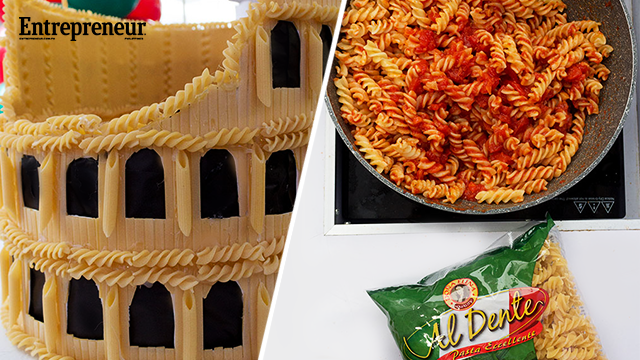 The Ultimate Pasta Challenge staged by Doña Elena Al Dente Pasta undoubtedly proved at least one thing: that in the face of fierce competition from and market dominance by the biggest pasta-making foreign companies, the people behind this local brand are absolutely confident with their product.
ADVERTISEMENT - CONTINUE READING BELOW
The competition recently held at the Mercato Centrale in Bonifacio Global City brought together several of the market's vendors and challenged them to create and present original dishes using Doña Elena's pasta products. The dishes were then presented to a crowd of pasta connoisseurs until an ultimate winner was decided. All things considered, the competition, by virtue of its mechanics, didn't just put the vendors to the test; it also put a spotlight on the Doña Elena brand and its promise of quality. This, however, was a non-issue—at least not for Fly Ace Corporation, the parent company of Doña Elena.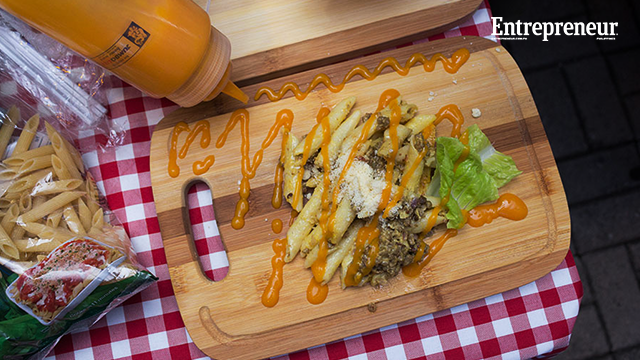 ADVERTISEMENT - CONTINUE READING BELOW
"We can assure you of the great quality of each pasta piece that you will find in [a Doña Elena pack]," said Karen Anne Saguiped, product manager for Fly Ace. "We can vouch for the taste after cooking." And after this competition, it appears that they're not the only ones who can do so.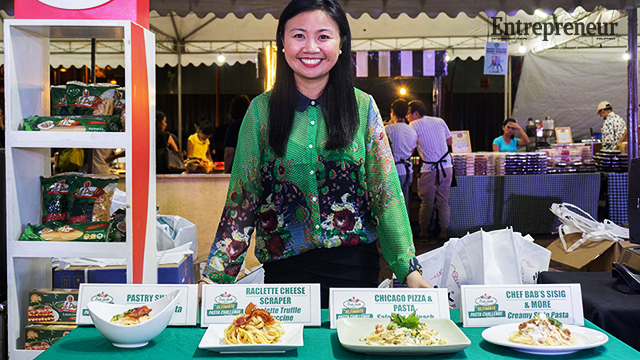 ADVERTISEMENT - CONTINUE READING BELOW
Eyeing entrepreneurs
Held to celebrate the World Pasta Month, the first ever Doña Elena Al Dente Ultimate Pasta Challenge saw the unveiling of several unique dishes from Mercato vendors. The Grill and Pastry Shack for one served a salted egg pasta dish which caught the attention of numerous spectators. Chef Bab's Sisig and More regaled the crowd with a plate of creamy sisig pasta. In the end, however, first place in the competition went to Aces Cuisine which served a compact yet flavorful plate of deep fried smoked chicken lasagna.
The group's triumph was announced alongside the win of four students from St. Stephen's High School who prevailed at a pasta art making contest held beside the cook off. The students were Sheindel Tsang, Winberlyn Flores, Candice Chua and Jeric Chua. Coached by Dr. Ulysses Yu, also from St. Stephen's, their win was afforded to them by a miniature replica of the Colosseum, a sturdy, pasta-made sculpture that outshined other replicas of known landmarks including the Pantheon and the Rialto Bridge.
ADVERTISEMENT - CONTINUE READING BELOW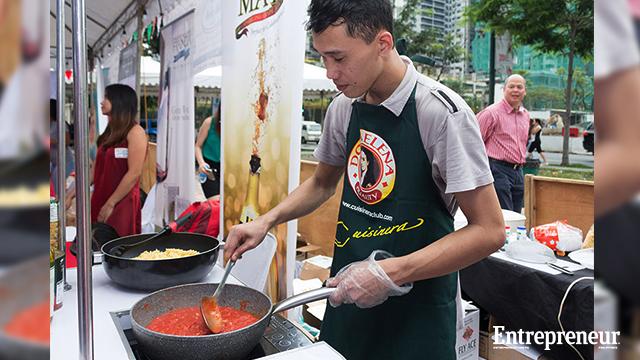 But Aces Cuisine and the students of St. Stephen's weren't the only winners that night. By the end of the event, members of Fly Ace themselves looked satisfied; they too have a reason to celebrate.
"The Doña Elena lasagna that I used, is not like other lasagna that, after you cook it, in a while, some of it will get soggy," said Erwin Jeremy Ng of Aces Cuisine.  "It's still the same quality. It's still al dente. This is the first time I used Doña Elena," he added. "And probably after this, I'll be using it."
ADVERTISEMENT - CONTINUE READING BELOW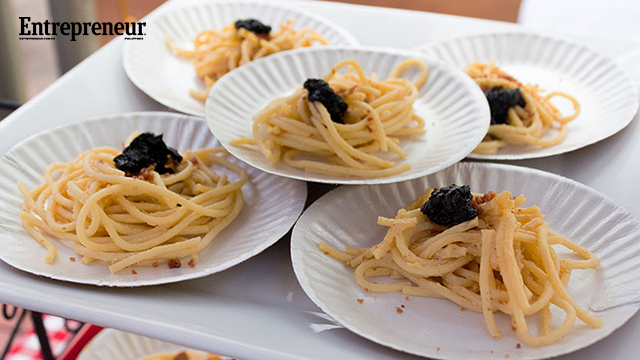 According to Saguiped, this is the kind of response they've been looking to receive. During her interview with Entrepreneur Philippines, the product manager said that there are a number of food ventures in the Philippines that require affordable high quality pasta to maximize their recipes. And according to her, Doña Elena's products fit these criteria. It is because of this that the brand decided to put up the cooking challenge to begin with; they wanted to engage food businesses, especially the start-ups, and let them know that "there's this pasta brand and it's good but it's not expensive."
ADVERTISEMENT - CONTINUE READING BELOW
"The good thing about Dona Elena pasta is that it's 100 percent durum wheat semolina," she said while enumerating the merits of their products. "Only pasta that's made with 100 percent durum wheat semolina can claim that it's al dente."
Being al dente though isn't the only selling point of the brand. Crafted with bronze dies, Saguiped said that Doña Elena's pasta products also have rough ridges which help sauces cling better. "That's why it's so good to experiment with this kind of pasta," she said.
ADVERTISEMENT - CONTINUE READING BELOW
Adding to this, Saguiped believes that Doña Elena—despite its positioning as a premium brand—remains competitively priced. "What you can expect from premium brands in the market is that they come out expensive," she said but "not with Doña Elena Al Dente Pasta. It comes at a very affordable price... so you really get value for money."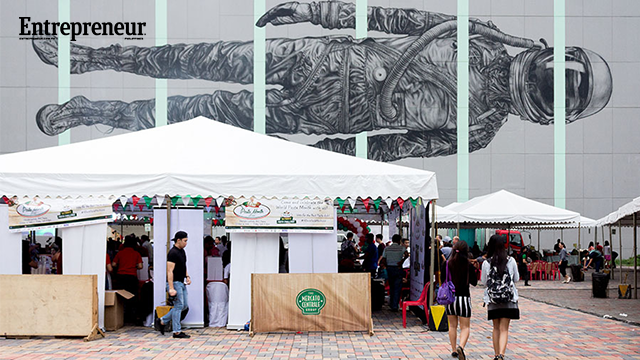 ADVERTISEMENT - CONTINUE READING BELOW
Doña Elena Al Dente Pasta has only been in the Philippines market for about five years. But, according to Saguiped, the brand, thanks to its fine points, has managed to get a good enough reception to solidify its positioning among premium pasta brands in the Philippines.
"Our business is growing every year," she said. "We gain more consumers and we attract more consumers." These now include the people behind the food businesses that participated in the brand's recently held contest: entrepreneurs who have tested the product and have seen as to why their dishes, paired with this proud brand, may be a much needed recipe for success. 
*****
Angelo Cantera is a journalist who has been covering the lifestyle, travel and business-lifestyle beats for some of the country's major newspapers and magazines. He has worked for The Manila Times and has served as associate editor of asianTraveler Magazine. Also a lensman, he occasionally does photography for his own travel assignments.
ADVERTISEMENT - CONTINUE READING BELOW