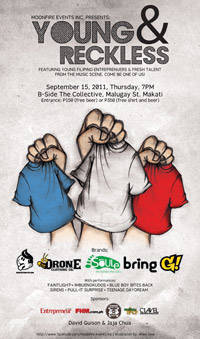 On September 15,  events company Moonfire Inc., will host the "The Young and Reckless" at B-Side, The Collective in Makati City, showcasing the latest talents in independent music and entrepreneurship.
Along with up and coming Filipino entrepreneurs, the event will have bands and DJs performing at the venue. One of the brands featured at the event is footwear label, Soule.  The eco-friendly brand sells footwear made of recycled materials: the upper portion of the shoe is made from used clothing and excess fabric while the sole is made from recycled airplane tires. Moreover, Soule packaging is socially conscious. It is made from recycled flour bags handmade by indigent people in Laoang, Samar.
ADVERTISEMENT - CONTINUE READING BELOW
Another brand to look forward to is Nick Automatic, the brandchild of Nicolo Nimor, the clothing line known for its colorful retro designs on t-shirts and hoodies.
Part of the event\\\'s proceeds will be donated to Childsville Philippines, a child caring institution to educate and house orphaned and abused children. 
The event begins at 8 p.m onwards at The Collective located at  7274 Malugay St. San Antonio, Makati City. Entrance fee is P150 (includes beer) and P350 (includes shirt and beer). The Collective is an alternative creative space meant to nurture unique retail concepts from restaurants to organic goods to one-of-a-kind clothing. For a map to the area, click here.
Check out the event\\\'s video here.
Photo courtesy of B-Side Facebook page