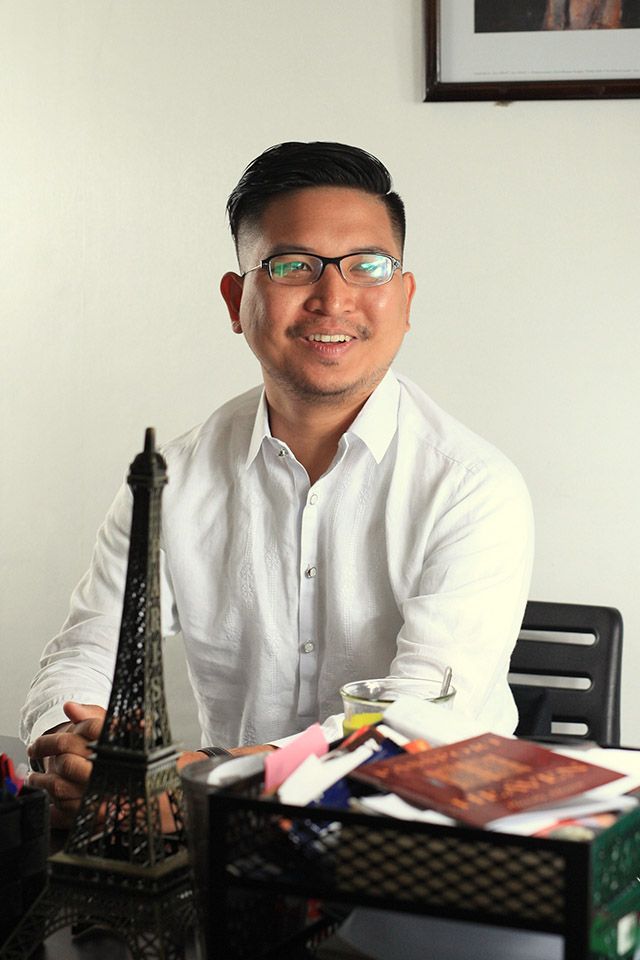 Magellan Fetalino III founded Acudeen to address SMEs' cash flow woes
In 2015, Magellan Fetalino III faced a problem with their family business: They had so many receivables and they were often getting paid late.
His family works with multinationals in the pharmaceutical sector. Having to handle the operations of the supply chain, Fetalino saw firsthand how much receivables they were getting with their many projects. Some due in 30 days and others up to 120 days.
ADVERTISEMENT - CONTINUE READING BELOW
"At some point, we faced critical cash flow issues because we couldn't liquidate our receivables. So the only way to support our working capital, our operations, is to get financing," he said.
Unfortunately, Fetalino said the current financing environment in the Philippines is not fit to support their needs. The 24-year-old entrepreneur noticed that fellow business owners encountered the same challenge. Some would choose to get loans but for companies just starting, this was not an option.
Banks and lenders have strict policies, including requiring borrowers to be operating for at least three years, being financially sound, possessing collateral, etc. It also takes a while before the money could be released.
"If you're a small business who doesn't have collateral, your only option now boils down to getting unsecured loans, which charges seven to 15 percent per month," he said.
Unsecured loans, Fetalino explained, are loans without collateral, which you can still get from a bank or other financing companies, or even informal "5-6" lenders. The only catch is the interest rates of these types of loan is exorbitant, some even reaching up to 20 percent.
ADVERTISEMENT - CONTINUE READING BELOW
Related Story: Despite high rates, Bombay 5-6 Loans Helped After Asian Crisis, Study Says
Fetalino took this problem personally and decided that he should create something that can potentially solve this issue faced by business owners like himself.
Acudeen or "Ako Din"
In January 2016, Fetalino joined a startup incubator called the Founder Institute. There, he met Mario Salazar, a balikbayan who worked in Singapore for over five years and now wants to have his own business. Salazar's background is in banking technology and when he was in Singapore, he worked for a company that provided software for support for the Development Bank of Singapore.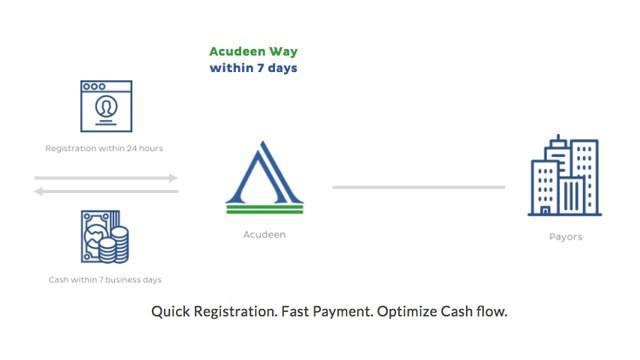 ADVERTISEMENT - CONTINUE READING BELOW
Acudeen's business model promises clients quick registration and fast payments of their receivables
"That's where we started to feel the synergy. I understand the problem, I understand supply chain and Mario understands banking technology. We felt it would work best if we would do it together. This is how a millennial and OFW solve financial inclusion," Fetalino said.
Salazar said that the value of hard work and determination which he learned as an OFW pushed him to fulfill his dream.
"Kapag nasa ibang bansa ka, you always have to think araw-araw ano yung gusto kong mangyari," Salazar said. ("If you're abroad, you always have to think what you want to happen everyday.")
Fetalino and Salazar discovered that "factoring"—a financial service in which a bank buys invoices or receivables—is hugely underutilized.
The service, he said, is widely practiced in other countries and is even known in Binondo by another name, "pre-discounting" of checks.
ADVERTISEMENT - CONTINUE READING BELOW
Fetalino and Salazar soon built their financial technology startup with this premise.
"We realized two specific problems. The first problem is financing for a lot of small and medium enterprises (SMEs). Let's say magkikinse na, kinsenas, pasweldo ("Let's say the 15th of the month comes, when employees usually receive their salary"). Usually they only have three to five days to think about how to solve their cash flow issues. So what we did is to make sure that we could provide financing, within three to five days," Fetalino explained. Small enterprises are those with assets of between Php3 million and Php10 million and employ from 10 to 99 workers. Medium businesses' assets range from Php10 million to Php100 million and employ 100 to 199 workers. 
The second problem is affordability. For a lot of SMEs, their only option now is unsecured loans, which is very expensive.
"Imagine seven to 10 percent [interest] per month, so that means in one year you're paying double what you borrowed. You're losing much of your earnings which is just crazy," he said.
ADVERTISEMENT - CONTINUE READING BELOW
Making the practice of factoring more affordable is something that Fetalino and Salazar started working on.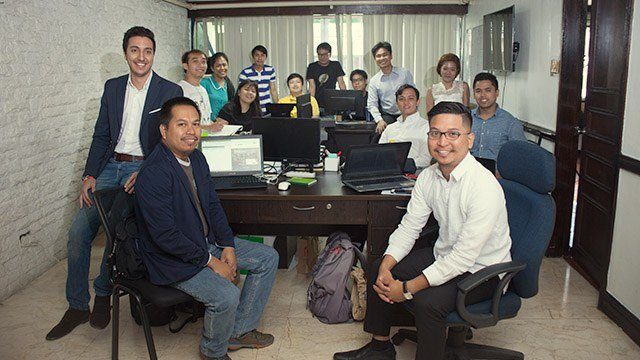 The Acudeen team in the Makati office
"We thought, if we start first, let's say with suppliers of multi-nationals and publicly listed companies, those with huge market capitalization, and base the credit assessment on those businesses, then we can definitely drop down the price," he said.
ADVERTISEMENT - CONTINUE READING BELOW
"Because the risk won't be based on the SMEs' performance or their financial status, it will also be based on the payor (we call them payor) or the multinational's credit standings. And that is how we are able to drop the price down and make it affordable," he added.
Just how affordable? From the usual seven to 10 percent interest rate, Fetalino and Salazar's company only charges on average just two percent per month.
And with this affordable and practical process that they soon started offering to businesses in 2016, Acudeen was born. The name comes from the Filipino phrase "ako din" which denotes inclusivity.
"We want people to say na, 'Uy ako din, pwede sa akin yan,' or 'Ako din, I can grow my business.' Because that's the whole problem here on the financial landscape—it's not inclusive," he said. The literal translation of "Ako din" is "Me too."
ADVERTISEMENT - CONTINUE READING BELOW
"We wanted to make sure that the name of the company is aligned with our vision, which is to create financial inclusion, create growth for small businesses and entrepreneurs here in the Philippines, and later on with other emerging markets," Fetalino added.
The big difference
Since 2016, Acudeen has been buying invoices and paying for them on behalf of corporations, using its credit line from partner banks. Financing support also comes from banks such as Rizal Commercial Banking Corporation (RCBC) subsidiary Rizal Micro Bank and FinTech startup First Circle.
For their protection, Acudeen also connects to the corporations' accounting software to validate the invoices of their suppliers. Upon validation, it disburses the money to suppliers in three to five working days, eliminating the wait for funds and solving cash flow issues.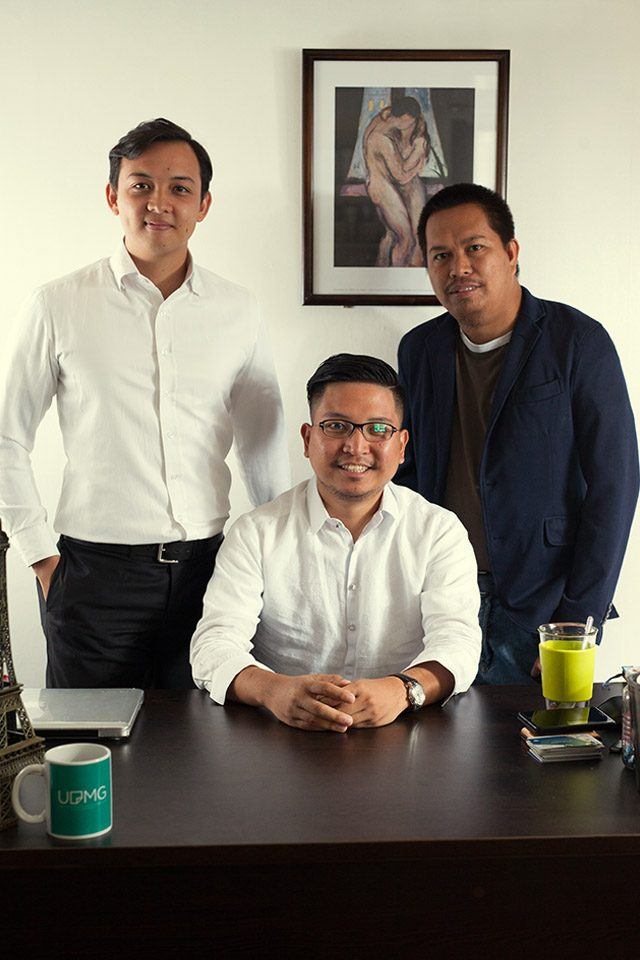 ADVERTISEMENT - CONTINUE READING BELOW
The Acudeen team: (left to right) chief marketing officer Miguel Alegre, founder and CEO Magellan Fetalino III, co-founder and chief technology officer Mario Salazar
Getting started is as easy as going to the company's website and registering. There is a Know Your Customer (KYC) or profiling, credit assessment but the onboarding process takes just one to two days. After that, the process from uploading the invoice to receiving the money takes only three to five days. But their ultimate goal is to have the money in their clients' bank accounts within 24 hours.
Fetalino happily shared some success stories of their clients, including their "Super Ten" or top 10 clients who use Acudeen's discounting service more than twice a month. Some of these 10 companies don't necessarily use the service because they are short on cash but for their working capital.
"They use us because they fuel their growth," he said. "This is how they do it."
ADVERTISEMENT - CONTINUE READING BELOW
One company that supplies care products to drugstores regularly sell their invoices to Acudeen. This company usually takes 90 days before getting paid which means that in a year, they only get a chance to roll out their money four times.
"Right now they have orders that they can't fulfill because they don't have the cash to purchase supplies. They're distributors. By using Acudeen, when they sell their invoice, they have the money to buy again and buy more even if their client hasn't paid them yet," he said.
The company used to have just four cycles for their cash in a year. One cycle is about Php100,000, which means they have only Php400,000 in a year. Now that they are using Acudeen, their cash flows come to around Php300,000 per month because they can liquidate it and buy the supplies that they need, explained Fetalino.
"More than solving cash flow issues, it becomes a tool for growth," he added. "So imagine, Php100,000 before, now Php300,000 per month. It's about Php3.6 million in one year. Ganun kalaki iyong scale, ganun kalaki yung difference." ("That's how big the scale is. That's the big difference.")
ADVERTISEMENT - CONTINUE READING BELOW
It wasn't long before they started getting noticed by international funders. In April, they won $500,000 equity prize from Seedstars World Competition, which helped open their doors to investors from Europe and elsewhere.
Taking advantage of this momentum, they want to educate more people about this new way of solving their cash flow issues by meeting them face-to-face. One of their initiatives is monthly education programs for 30 to 100 SMEs all over the country, in cooperation with the Philippine Chamber of Commerce, the International Finance Corporation and their partner banks.
"If you ask a small business, just like what factoring or pre-discounting really is, they will definitely say they don't know about this," Fetalino said. "They're just familiar with loans. What we do now, before we even sell anything, we educate them. We make them understand how this helps their business."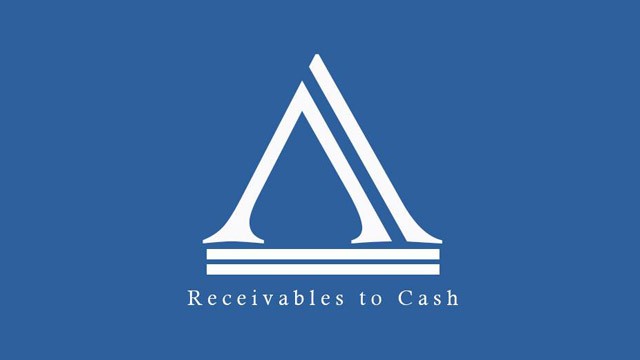 ADVERTISEMENT - CONTINUE READING BELOW
Acudeen is also working with government agencies to promote financial inclusion
This nationwide campaign is targeting SMEs from megacities like Manila, Cebu, Davao, Iloilo and Bacolod. Aside from educating these small to medium businesses, by 2018, they also plan to target $100 million worth of transactions from at least 1,000 businesses in the Philippines in terms of invoice volume. Fetalino is happy to report that they're doing close to $1 million per month already.
Laying the groundwork
Acudeen is also working with the government to promote financial inclusion.
"The government's position when it comes to financial inclusion is aligned with our vision," the founder said. The company is working with the IFC and the Department of Finance on key initiatives towards these goals. 
"It's a foundation for future proofing of our existence," he said.
When asked about the problem he sees with most startups, Fetalino said that it's really the financials and lack of experience.
ADVERTISEMENT - CONTINUE READING BELOW
"A lot of startups are run by visionaries, by entrepreneurs who have very aggressive personalities with big ideas that they want to test, but one thing that is usually missing is the control over the financials. It's very important that if you know you're not experienced in managing the cash for your business, try to get an adult to help your with that. An adult means someone who is experienced enough to manage the cash flow aligned to your goals."
On the other hand, Fetalino and Salazar said that being young has its advantages too. For Salazar, millennials have an easier time adapting to different work cultures or schemes. Fetalino meanwhile said that young people should not be afraid to take risks. He said that fear is the only roadblock in stopping people from doing what they like.
"When you feel that very uncomfortable feeling, usually that's a good sign," Fetalino said. "Your body is telling you that you're about to step out of your comfort zone so, as a millennial myself, all I did was to really take that step forward beyond that comfort zone and really put fear at the back of my head so I could do really what I want and fulfill my vision.
ADVERTISEMENT - CONTINUE READING BELOW
"Just be fearless and don't be afraid to make mistakes. Because on its own, while you make mistakes, especially when you start learning a lot of things along the way, that's when you really see progress." 
*****
Nicai De Guzman is the marketing head of Rising Tide, a technology solutions company. She is also the Manila Bureau Manager of Probe Media Foundation's Mulat Pinoy-Kabataan News Network and a regular contributor for SPOT.ph. Follow her on Twitter @nicaideguzman, and LinkedIn.
*A previous version of this story mentioned the International Standards Certification (ISC) as one of the partner agencies of Acudeen in its monthly education program initiatives. It should be the International Finance Corporation (IFC). Entrepreneur PH regrets the error.