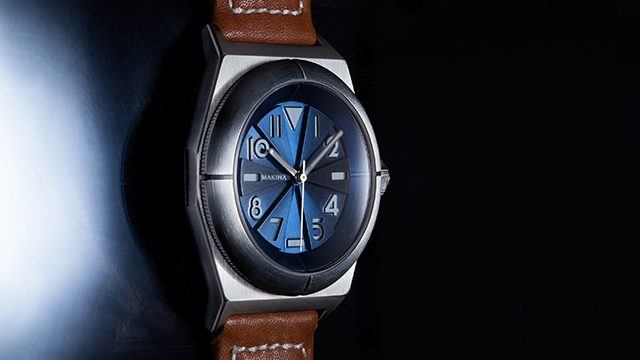 Makina has yet to officially make the Mephisto watch available to the public. The company says only 500 pieces will initially be available for this model
Makina is a Filipino watch brand founded by Danilo Villanueva. The former advertising professional remembers the exact day he started the company: March 15, 2016. "(It was) one day after I quit my job."
ADVERTISEMENT - CONTINUE READING BELOW
Villanueva says he's always been obsessed with mechanical watches. "I couldn't realize my goal of building my own watch brand because of the limited time I had working for other people's companies," he says. "Hence a good one year off without income."
While he declines to discuss exactly how much he spent to start his own watch company, he says he had to sell his personal luxury watch collection, including a few "Panerais and Jaeger LeCoultres (JLC)."
According to watch experts, a base or entry-level model of either a Panerai or a JLC costs somewhere in the vicinity of Php250,000, but the price can go up even higher depending on materials or additional complications.
"I managed to keep two (watches)," he says.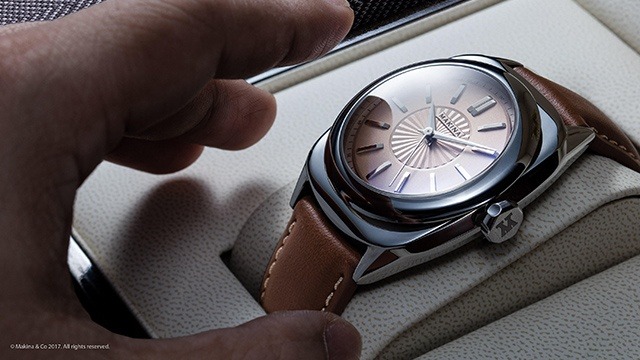 ADVERTISEMENT - CONTINUE READING BELOW
Makina Uriel I timepiece has a cream-colored dial and hand-polished stainless steel finish
Villanueva started with concept drawings and designs for the watch of his dreams. He collaborated with a watch engineer, a fellow Filipino who works full time for a major Swiss watch brand in Hong Kong. Together they worked on sketches, concept art, a 3D model and a 2D autocad layout.
"We handed production work to a friend of mine who owns a small manufacturing factory in Hong Kong," he says. "It took me years to build contacts like these because I've always known I'd be making my own watch brand."
Since it's still technically a startup, the Makina team is small. Apart from Villanueva himself, the company involves his wife as his business partner and operations manager, his parents who handle imports and shipping logistics in the Philippines, a Filipino engineer and Chinese assembler in Hong Kong, and one Filipino assembler in the Philippines.
ADVERTISEMENT - CONTINUE READING BELOW
Villanueva says he also periodically hires freelance designers and works with a friend who owns a factory with computer numerical control (CNC) machines and operators in Hong Kong to produce the actual watches. CNC machines are electro-mechanical devices that manipulate shop tools using input from computer programming.
The first two watch models under the Makina brand are called Uriel and Mephisto. Both have a Miyota movement from Japan and feature a striking vintage look with a clear reference to Art Deco. The Uriel I and II retails for $599, while the company has not yet announced a price for the Mephisto as it will be released at a later date.
When Entrepreneur Philippines communicated with Villanueva in July, he said the first batch of watches was almost gone because of pre-orders.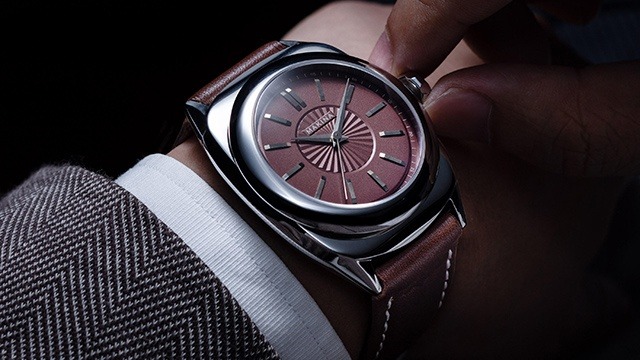 ADVERTISEMENT - CONTINUE READING BELOW
The Uriel II's strap is made of genuine Italian calf leather
"We only produce in batches of 100 every time for cost management and, more importantly, for quality control." The company had to quickly produce another batch to meet demand for the official launch in early August.
Now that Makina is up and running, Villanueva has had to answer questions about what exactly is Filipino about Makina given that the movement the watches use is made in Japan and the actual watches are manufactured in Hong Kong. But the founder believes the brand is unequivocally Filipino.
"What is Filipino about Makina are the brains behind the brand; from founder, to designer, to engineer, to assembler, to branding experts," he says. "As for the rest, we have to rely on our Asian neighbors who we can trust to deliver high quality in their area of expertise. All parts are manufactured in Hong Kong. Of course, I would love to manufacture in the Philippines but it is close to impossible to do so; unless one buys x number of precision machineries and hires expert watchmakers to teach a sizeable crew how to operate these machineries and make handcrafted parts."
ADVERTISEMENT - CONTINUE READING BELOW
Villanueva also mentions other well-known watch brands from other countries to prove his point. "As far as I am concerned, Makina is as Filipino as Sevenfriday is Swiss, TW Steel is Dutch, Daniel Wellington is Swede despite the fact that these big brands are all manufactured in Guangzhou or Shenzhen. The only watch brand I know that used to manufacture in the Philippines is Timex and I don't think one can consider this a Filipino brand just because it is made there."
To find out more about Makina, visit Makina Watches
*****
Paul John Caña is the managing editor of Entrepreneur PH