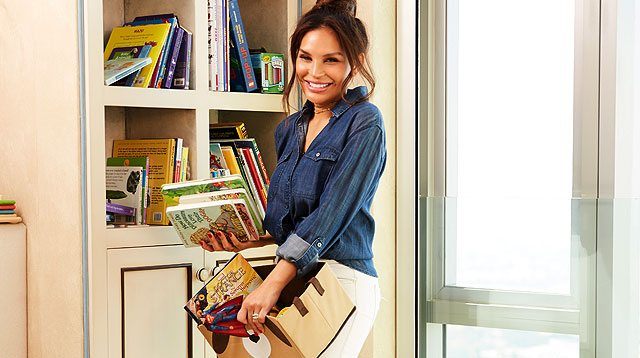 Moms often find it hard to carve out some me-time, even if we all know we need it for good health, and -- let's face it -- for sanity.  
"As women and mothers, we can fall into the trap of feeling like we need to take care of everyone and everything else before ourselves," Jordana Woodland, founder, CEO and creative director of Naked Princess, told Smartparenting.com.ph via email. Naked Princess is a modern boudoir lifestyle brand offering beauty and lounge-wear & lingerie to help women feel extraordinary effortlessly. Yes, we do our duties, but it should not come at the expense of our wellbeing.
ADVERTISEMENT - CONTINUE READING BELOW
A mom of three (ages 6, 5 and 3), Jordana knows all too well of the challenges of balancing her family life and running her company, whose clients include Hollywood stars Lady Gaga, Cindy Crawford, and Mindy Kaling. She stresses, however, that we need time for ourselves to be there for our family. "When we allow ourselves this time, our mind and body feel refreshed and recharged. When you have a sturdy foundation you are able to give in healthier and stronger ways," Jordana stressed. 
It's easier said than done, really, but the fact is it can be done. Jordana, who was born in the Philippines and moved to the U.S. when she was 13, launched Naked Princess in 2011 when she was pregnant with her first child. Now with three young kids, her days could get jam-packed. With a home and a company to run, Jordana says, "I'm not going to lie; it's a constant challenge. Being a mother of three, it's inevitably going to get crazy.
ADVERTISEMENT - CONTINUE READING BELOW
"It really hit me hard when I started balancing running a business with raising my kids. I started feeling that guilt about taking any time out for myself," Jordana admitted. But she isn't the one who would easily back down from a challenge. She couldn't possibly give up her love for dressing up, a passion she has embraced from watching her mom dress up every morning when she was a little girl. "I believe that personal time is so important, so I wanted to create products that helped women feel beautiful, but were also very practical and easy."
ADVERTISEMENT - CONTINUE READING BELOW
But, of course, family comes first. Even if she grew up moving places a lot, Jordana had always felt connected to her Filipino roots, and her kids do so as well. "It's extremely important to me that when I'm home that I'm present for my kids in all the little ways that make such a huge impact on their overall wellbeing," Jordana shared. Dropping off and picking them up from school, dinner time (they love adobo, shrimp sinigang, and pancit, plus halo-halo and turon!), bath time, and story time -- these are the moments Jordana looks forward to and enjoys with her children. 
Jordana describes her parenting style in two words: balance and empathy. She ensures her kids have time for structured activities and entertaining themselves. Boredom, she says, allows them the opportunity to get creative. "It's actually healthy to let them explore their own ways of enjoying their days," she stressed, not to mention, liberating for the parent, too. To teach her kids empathy, to understand and reach out to others, one of their mom-and-kids monthly bonding activities is doing simple acts of kindness, such as donating food and clothes.
ADVERTISEMENT - CONTINUE READING BELOW
For me-time, she enjoys working out, getting her nails done, going out with friends -- but without feeling guilty, which is her secret to staying fit, beautiful, and sexy. "Even if you only have time to swipe on your favorite lip gloss or spritzing on some body spray before grabbing the kids from school, those two minutes can make you feel more confident and beautiful," she explained. On really busy days, she'd strap on a 2.5-pound ankle weights and play with her kids. "I wear them for at least six hours a day, and I feel like I've run a marathon when I take them off," she shared. There's always a way.  
Since Naked Princess is all about effortless fashion and beauty pieces for busy women, we asked Jordana her top-of-mind advice as creative designer of her brand:
On fashion choices: "Dress in any way that makes you feel good," Jordana stresses. Every time you go shopping, ask yourself: What makes you feel sexy? What makes you feel feminine? What makes you feel comfortable? "The right pieces make you feel confident without the fuss," she added.
ADVERTISEMENT - CONTINUE READING BELOW


On wearing lingerie: "Have fun with it and try to dress in lingerie for you, not just for your partner or a special occasion. My friends tease me because I always wear a matching bra and panty set because it makes me feel good." 
On feeling beautiful: Certainly, a bit of color in the lips helps, she says, but beauty is not about makeup. "I recommend moms to listen to their body; rest when your body asks for it, drink water as often as possible, and lather yourself in coconut oil for everything."
At the end of the day, it's not just balancing the many aspects of her life. It's also a mindful challenge for Jordana not to stretch herself too thin. She tries to keep family time sacred by putting her phone in silent mode, which is something she's still working on. "I try not to take too much on while also trying to tackle as much as I can," she says. Well, that's one thing all moms should learn.
ADVERTISEMENT - CONTINUE READING BELOW
*****
This story originally appeared on Smartparenting.com.ph.
* Minor edits have been made by the Entrepreneur.com.ph editors.