Rikki Dee started out with a food stall at a hawker center Chinatown before eventually moving to outlets at the food court of SM Malls. He eventually created full-service casual restaurants
The hawker center eventually moved to an air-conditioned space in Makati and the Dees moved their food concept with it. At the time, SM was about to open its first supermall in North EDSA and were looking for tenants. Henry Sy Sr. himself extended an invitation to the couple to open a food court concept there and that got the Dees started on their restaurant empire.
But it was a slow burn for the business, so to speak. As SM started to churn out one shopping mall after another, the Dees opened a food court outlet at almost every one of them. If the mall needed a new concept, Dee said they were more than willing to develop one for them.
ADVERTISEMENT - CONTINUE READING BELOW
Eventually, Dee felt the company was ready to open their own standalone restaurant concept. But not all of their ideas found a market in Manila's intensely fickle and competitive dining scene.
"We put up Kitchen at the time, but it was too early for that concept," Dee says. "Then we put up Krocodile Grille because me and my barkada would go out drinking, so we put up our own drinking place. But we soon outgrew it. Sabi ko hindi na kami bagay mag-bar (I didn't think the bar scene suited us anymore). Then we put up Dish in Rockwell. Those were the first few concepts that we did."
FGC finally struck gold when it opened Mesa, a restaurant with a modern take on Filipino cuisine, in 2009. Dee and his partners must have done something right as today, it's arguably their most successful brand. They expect Mesa to hit 60 branches before the end of the year. About 75 percent of the store count are franchises.
ADVERTISEMENT - CONTINUE READING BELOW
Michelin-starred brands
Dee says his kids influenced his decision to introduce international brands to the Philippines.
"We travel a lot," he says. "We got exposed to foreign brands. About four years ago, we started bringing in foreign restaurant brands because of globalization."
Their first international concept was Todd English Food Hall, a partnership with the American celebrity chef. Then came Tim Ho Wan—the dimsum restaurant chain from Hong Kong famous for its pork buns. And then the rest followed soon after—Tsuta (Japanese specialty ramen), Kam's Roast Goose, Hawker Chan and Italian haute cuisine FOO'd by Davide Oldani. The last five have all received a coveted star from the prestigious Michelin guide.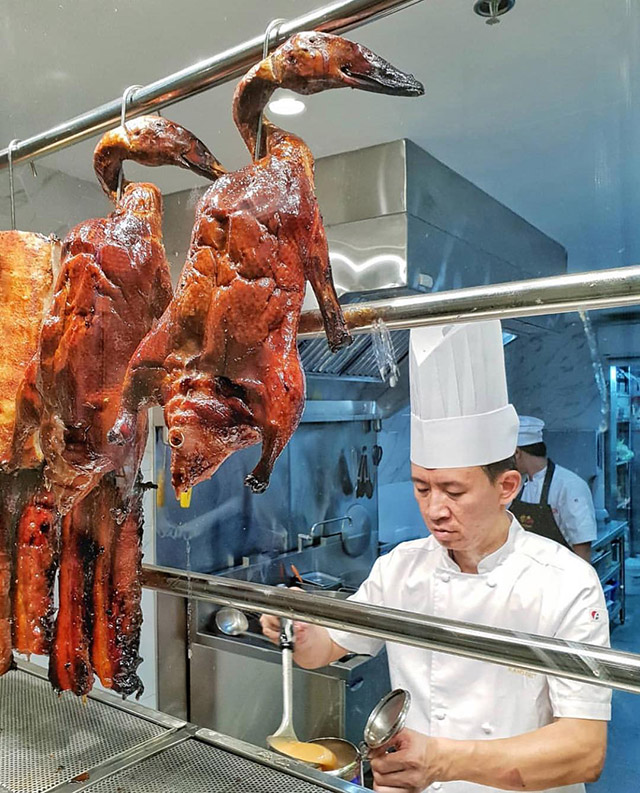 ADVERTISEMENT - CONTINUE READING BELOW
Kam's Roast Goose is a Michelin-star award-winning restaurant from Hong Kong
"For global brands, the brand awareness should be number one," Dee says to explain how they choose the restaurants to bring to the country. "Accolades. Acceptance in an Asian scenario and localizing it. Price points. And, of course, do we personally like it? We live with the idea that, once you enjoy it, once you enjoy eating it, it's not work. If you like the brand, you don't get tired of eating the brand."
Dee isn't stopping there. Earlier this year, he launched a joint venture with retail king Ben Chan to run Bench Café, an F&B outlet in the fashion brand's flagship store in Bonifacio Global City. Coming soon is a Bench food kiosk that will serve halo-halo, iced tea, drinks and desserts.
Also in the pipeline: a Food District at the new Philippine Stock Exchange Tower in BGC, a curated restaurant featuring the best of the food outlets in Malate and the Poblacion district in Makati.
ADVERTISEMENT - CONTINUE READING BELOW
"There will be nine operators, each one will have only five to 10 of their signature products," Dee explains. "These are all chef-owned."
And Dee hasn't even mentioned his involvement with Sunnies, an optical shop that expanded from its initial offering of sunglasses and into prescription eyewear and now also a café.
While eldest son Eric handles all the food brands, second son JRD is in charge of the Sunnies subsidiaries, while daughter Erika handles the company's foodcourt developments. (The company has a separate arm that handles a canteen concession service that feeds up to 15,000 people daily). Dee says he is also dabbling into real estate, with a separate company that develops suburban malls outside Metro Manila.
"We're building one in Bocaue," he says. "My second son is helping me out there. We have four malls now called Central Mall. We're also building an office tower along EDSA-Boni and we're putting up our second one in Libis."
ADVERTISEMENT - CONTINUE READING BELOW