<>Beside a convenience store in Sta. Cruz, Manila (near Sampaloc), is a tricycle terminal, where tricycle drivers usually fall in line waiting for passengers for hours. Most of them kill their time by drinking coffee in a nearby
carinderia
, playing cards, or engaging in simple conversations with each other.
But one of them, 44-year-old Rafael del Rosario, usually sits on a nearby bench, taking his time to just rest. He is a tricycle driver during the day and a
barangay tanod
at night. "I rarely stay at home anymore. I work as an 'executive officer' (as he jokingly calls his duty as a
barangay
officer) from 11 p.m. to 4 a.m. After that, I'll eat breakfast for a while then go straight to work as a tricycle driver," he shared.
Working harder
Del Rosario is logically working harder to provide for the needs of his family (he has three daughters and a son). Before he became a tricycle driver, he was a laborer in a nearby printing press for nine years. There, he earned money to send his first three children to secondary school. "But my three daughters have all decided to start their own family after finishing high school. It was kind of sad at first, but then I realized I should be excited because I'm going to have grandchildren."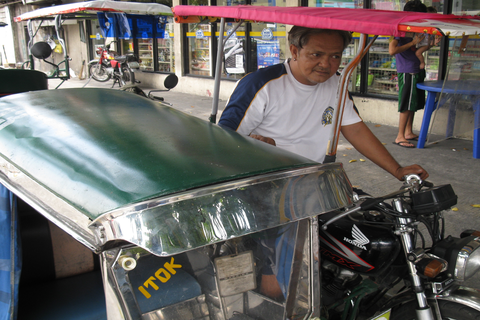 Starting out as a tricycle driver was not a walk in the park for him. He is currently paying for the vehicle he is driving. He bought the unit two years ago from a relative. They agreed that del Rosario would pay P170 every day for three years. Right now, he has a year more to complete the payment and fully own the tricycle.
He revealed that he has also spent a lot of money securing the necessary permits to be allowed to fetch passengers. That amount is on top of the expenses for availing a new plate number and renewing his driver's license. "It was very hard. I almost spent P3,000 on the paper works alone. But it was all worth it."
Responsibility and plans for the future
For his family, del Rosario has been and will always be a great father and provider. His eldest daughter, along with her husband and son, is still living with him. His son-in-law also works as a tricycle driver. "I give him tips on how to be a good tricycle driver. He's providing for his son, and I'm providing for my youngest also. It's about helping each other out," he said.
Del Rosario plans to become an entrepreneur soon. He is aiming to put up a small
carinderia
or a small sari-sari store when he saves enough capital. For him, owning a small business will be a fulfillment of a lifelong dream. It would also help his family earn more for a secured and comfortable living.
But it may take some time before his savings become sufficient as he is currently prioritizing the education of his son. Del Rosario advises all other would-be businessmen not to hesitate to give entrepreneurship a shot especially when they have enough money for capital. He said if he only has enough savings, he would immediately get into a small venture.
Lastly, he wants to share an insight to everyone. "Spend your money wisely. Keep a small saving in case of emergencies. You'll never know when you're going to need it."
ADVERTISEMENT - CONTINUE READING BELOW