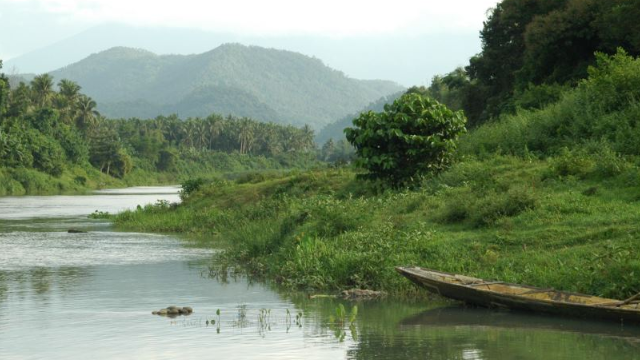 Marcial "Mars" Aaron had always wanted to be an entrepreneur, but opportunities in the corporate world would keep him from becoming one for more than 30 years. It was only in 2004, after retiring as president and CEO of Unilever's food subsidiary Unilever Best Foods Philippines, that he became one, tending to his own farm in Pagsanjan, Laguna, growing trees, and coming up with livelihood-generating projects for the farmers there.

Aaron, who acquired the 11-hectare farmland from his mother-in-law in 1997, had since planted nine hectares of it to banana trees and some forest trees. He has already planted 8,000 bananas and he plans to plant 12,000 more in the next five years. He also raises cattle in a two-hectare portion of the property.

Today, Aaron also produces banana chips and has been encouraging farmers near the area to grow the saba banana variety. He sells the banana chips at P30 per 100-gram pack at the farm and at the Aaron residence in Manila, then directly uses the proceeds for the farm's maintenance.
ADVERTISEMENT - CONTINUE READING BELOW
An eco-farm resort
In November 2007, he started putting up cottages in the property, transforming it into what is now known as the Villa Socorro Agri-Eco Village and Farm Resort, which he named after his wife, the former Socorro Fernandez. The cottages, which can provide overnight accommodations to 30 people, are complemented by a pavilion for hosting wedding receptions and other social functions for 120 guests or more.

Says Aaron: "We target corporate clients and big families holding reunion parties. We also welcome companies holding team-building seminars."

The farm resort does not accept walk-in clients and limits its services to providing bed-and-breakfast accommodations to organized groups. Among its major attractions are river-rafting and swimming as well as fruit- and vegetable-picking during harvest times.

When Typhoon Milenyo felled some of the farm's big trees in 2006, Aaron made various pieces of furniture out of them and also built a tree house out of the fallen tree trunks. These have since become part of the resort's attractions.
ADVERTISEMENT - CONTINUE READING BELOW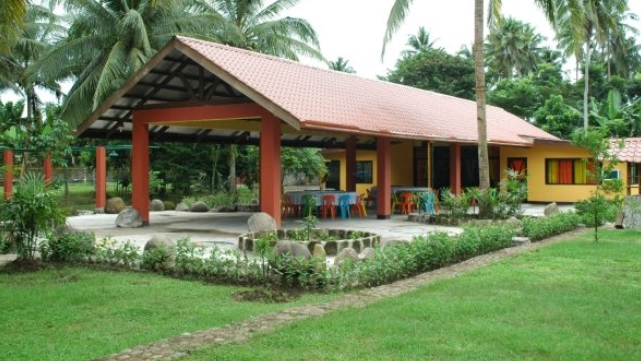 Involving the community
Whenever the resort has guests, Aaron engages the services of nearby residents as cooks and housekeepers. "We save on overhead costs because we only call in additional help when we need them," he says.

He initially thought of just developing the property as a vacation destination for his family, but he later realized that "it wasn't too late to become an entrepreneur at age 54." In becoming one, in fact, he has already spent about P5 million in development costs for the property.

Aaron explains that decision: "I now live in a farm after a very successful corporate life, and I help the farmers by just using the asset that I already have together with my business experience."

He found, though, that he had to adjust to doing most everything himself after giving up the comforts of being a senior manager at a multinational company. "When you start a business at an age like mine, you know that time is limited and failure is not an option," he says. "And as you get older, it's not enough to find a place to visit. You should get to enjoy nature when you do and you should get to show your kids what nature was like when you were growing up yourself."

He makes every effort to preserve the eco-friendliness of the farm, including doing proper waste disposal measures and teaching guests to be environmentally conscious. He is also open to the idea of working with other environmentalists to maintain the farm's natural diversity.

"Some trees here were planted by me and my colleagues at Unilever," he explains. "It's our way of paying back what God has given us, and it's also our way of sharing it with other people. If I earn from this, it's just going to be a bonus."
ADVERTISEMENT - CONTINUE READING BELOW
Making the business sustainable 
Through word of mouth, the Villa Socorro Agri-Eco Village and Farm Resort has been attracting a growing number of visiting groups, and it has been getting inquiries even from abroad since it put up its own website in March. Currently, four farmer families are helping maintain the farm and six contractual employees are doing carpentry work and other special jobs there.

A banana-chip manufacturing plant is now operating within the property. It can produce 100,000 packs of banana chips monthly and employ at least 20 more people.

"I also want this place to become a business model for other idle lands, a showcase for the idea that environmental consciousness, social responsibility, and business viability can co-exist," says Aaron.
Photos from the FB account of Villa Socorro Farm