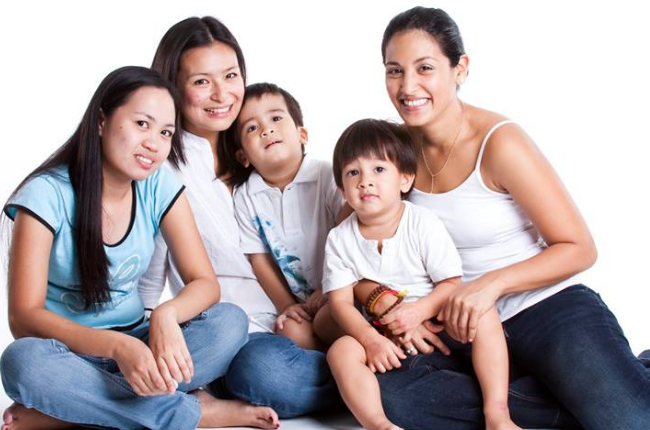 It all started when Monica Eleazar and Denise Gonzales were looking for a creative output for their ideas and decided to become work-at-home-moms from stay-at-home-moms. After carefully deliberating opportunities and their available options, they co-created INDIGObaby, a bustling one-stop shop that caters to the modern parent's needs.
INDIGObaby is a hit because of their creative products that keep women hip and chic without neglecting their roles as mothers. Their products range from diaper belt to organizer bags, and baby accessories, as well as their popular organic bath and body line. The business also takes pride in its pilot product, the Diaper Clutch. Designed for the modern parent on-the-go, it's available in different designs and prints, which can be used sans the diapers for a stylish clutch.
ADVERTISEMENT - CONTINUE READING BELOW
As advocates of attachment parenting, a parenting philosophy based on the attachment theory that babies develop a strong emotional bond with caregivers, Monica and Denise developed maternity products that help other attached parents uphold this theory. INDIGObaby's revolutionary Nursing Cover makes breastfeeding as stylish as can be with breathable lightweight fabric for optimum comfort.
As mothers themselves who can't dare be away from their children, both Monica and Denise uphold the importance of parents' presence during their child's firsts. Believing that there is more reason to stay home than to go to work, they soon chose motherhood after a life of ambivalence whether or not to be career women. Monica decided to tender her resignation during her last month of pregnancy to be with her then to-be-born son Santti; while Denise was allowed to retain her job with a work-from-home agreement with her employer, just so she could be with her then 6-month-old son, Benny.
ADVERTISEMENT - CONTINUE READING BELOW
"Our children are only kids once, so I made sure I wouldn't miss it for the world," shares Monica. "For the love of the child, that's all there is to it. We needed to be self sufficient while being there for our children," Denise says.
With a philosophy that the time spent by mother and child is of utmost importance, they agreed to contribute P100,000 each to start the business. In November 2007, INDIGObaby was launched in a bazaar in Rockwell Makati. Now on its seventh year, this online store soon found its way to retail outlets  that supported its products such as the Sesou, Echostore, and other stores that promote natural, locally manufactured items.
Photo from INDIGObaby's FB page