You think your business idea is too far out or too offbeat to be workable and profitable? If so, don\\\'t get rid of it as yet and think it out again. With a little tweaking and the right entrepreneurial push, that idea of yours just might be the next big thing to take the market by storm.
Indeed, this has been the common experience of the entrepreneurs that we are featuring here. Each of them saw an unlikely market niche just waiting to be tapped, and they relentlessly pursued their respective quirky ventures until they became thriving businesses.
The bottom line is that no matter how traditional or eccentric a business might be, it is worth pursuing so long as it holds a strong promise of creating, satisfying, and retaining customers. For as Dr. Peter Drucker, the late management guru, had always emphasized to businesspeople and marketers, the customer "is a foundation of a business and [is what] keeps it in existence. The customer alone gives employment. And it is to supply the customer that society entrusts wealth-producing resources to the business enterprise."
ADVERTISEMENT - CONTINUE READING BELOW
KINK CAKES: FOR ADULTS ONLY
By Jesse Edep. Photos by Wacky Gochoco
Former medical students take the naughty road to penetrate the cake industry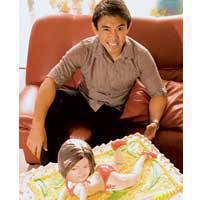 In 1990, Tom Carlos and Mary Anne Cuenca gave birth to Kink Cakes. Nearly two decades later, their business, touted as the bad boy of the Philippine baking industry, continues to draw the patronage of naughty adults who want to give presents that can draw a snicker or guffaw from those receiving them.
ADVERTISEMENT - CONTINUE READING BELOW
Kink Cakes offers variously flavored cakes with handcrafted designs ranging from sexy girls in bikinis to couples in compromising positions. It is a business that began from a more basic but earnest desire: the mutual "I-want-to-be-my-own-boss" longing of Carlos and Cuenca, who at the time were both pursuing postgraduate degrees in medicine at the University of the East in Manila.
The pair decided to discontinue their medical studies to go into the decidedly offbeat business of making sexy-themed cakes—a decision that drew the vehement objections of their parents. But the two pressed on, with Carlos taking charge of the financial side and Cuenca, the baking aspect.
Carlos recalls that he had a gut feel that his unique vision would work. His reason: "If we were going to just offer merchandise similar to those of the bigger bakeshops, we might as well not go into the business because they can easily drown us with their bigger capital."
ADVERTISEMENT - CONTINUE READING BELOW
To get started, the partners put up only P200,000 in initial capital because they simply took over a small bakeshop in Quezon City with an available chiller. Carlos says the funds came from his savings and from loans he had obtained from his parents and some friends.
During the first few months of Kink Cakes, the partners were always on the lookout for provocative ideas to draw crowds into their store. Among their early ideas was to draw bits and pieces of the human anatomy on their cakes. Later on, they learned how to mold and shape them as part of the cakes themselves.
To their dismay, however, their bakers often encountered mishaps in making the cakes during the first few months, like the "boobs" of the cake falling off. As Carlos recalls, "We were lucky that since we were the only one in the market making kinky cakes, our customers were extremely tolerant of some of the unfortunate outcomes of our cakes."
ADVERTISEMENT - CONTINUE READING BELOW
Eventually, though, Kink Cakes was able to develop more stable types of icing, glazing, or sugar coatings for their cakes. Carlos explains: "In the past, the three-dimensional formed cakes would crumble when transported for longer than 30 minutes. We have since developed structural support for our cakes that enable them to withstand long hours of traffic."
During the second year of Kink Cakes, however, the massive power outages that plagued the country almost killed the business. Carlos recalls: "People became extremely hesitant to buy cakes because they didn't know where to put them and how to prevent the forms of the cakes from melting. Rather than give up, though, we bought delivery vans, generators, and various other equipment to keep ourselves in business."
The perseverance of the partners paid off. By its fifth year, Kink Cakes had started to make good money and the partners were able to recover their initial investment in the business. This happened, Carlos recalls, when the media noticed his bakeshop and gave it unexpected public exposure. The result was a deluge of customers. "We were so unprepared for it that we started having a backlog of orders," Carlos says.
ADVERTISEMENT - CONTINUE READING BELOW