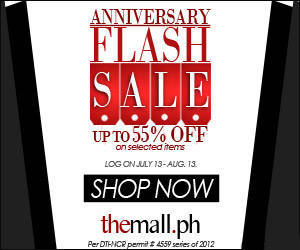 Ever thought of doing flash sales? A flash sale is a strategy that works well for both retailers and consumers. Items are offered at huge discounts for a limited period of time. Retailers are given the chance to offload stock faster and consumers get great discounts. It is also a good way to foster loyalty for your brand.
ADVERTISEMENT - CONTINUE READING BELOW
To celebrate their anniversary month, themall.ph, an online storefront for upcoming designers as well as established retail brands and the ultimate shopper\\\'s guide for everything fashionable,  is offering a flash sale from July 13 to August 13, 2012. The month-long flash sale is open to everyone. More than 200 items will be included in the sale at discounted prices of up to 55 percent off.
Themall.ph makes it fun to shop for fashion, accessories and novelty items for women and kids.  There is an interactive style scrapbook feature called My Closet that enables you to mix and match clothing, putting together a unique look that you can get for yourself. Are you a fashion entrepreneur? The site also accepts applications if you want to be an online seller.
For inquiries on how to become a featured seller, email themall.ph@summitmedia.com.ph or call  (02) 451.8888 loc. 1151.