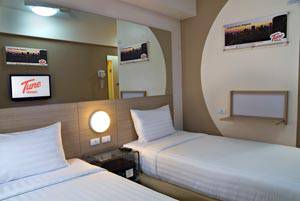 Ever wish you were given a discount on your hotel rate every time you turned off the lights or didn't change your towel? In a twist to the traditional hospitality business model, this innovative hotel concept now gives guests financial incentive to adopt eco-friendly practices.  If you don't use it, you don't pay for it - simple as that.
ADVERTISEMENT - CONTINUE READING BELOW
Operating with the demand-based pricing booking system as well as low-cost concept similar to that of airlines, Asian hotel value chain Tune Hotels stays true to its promise of providing great value by allowing guests to pay only for the amenities and services that they need. Guests only pay for room rates with the option of adding on other amenities like towels and toiletries, air-conditioning, in-room wifi and satellite TV service.
This 2012, Tune Hotels will bring this concept to the Philippines with the opening of its first hotel here to be located in Angeles City on February 10, followed by Cebu City on February 24 and Ermita, Manila on March 9. In the same year, Tune Hotels also plans to expand its operations in other key cities: Makati, Manila, Cagayan de Oro and Ortigas. By 2013, another branch is scheduled to open in Quezon City, then totaling 7 Tune Hotels in the country.
[related|post]"The Philippines is a priority market for Tune Hotels. With the rise of budget travel packages from airlines and increase in business travels, there's a high demand for no-fuss hotels that would provide affordable, safe, clean, convenient and comfortable accommodation and that's precisely what Tune Hotels is all about," said Mark Lankester, Group CEO, Tune Hotels. "Our focused business model of providing the quality basic essentials to travelers so that they are guaranteed a comfortable five-star bed and a great shower means that we can make our room rates as attractive as possible, consistently. By eliminating services that they do not need, we allow people to save more so they can stay in tune to what matters most when they travel."
ADVERTISEMENT - CONTINUE READING BELOW
He says that the same people who patronize its sister company, the low-cost carrier AirAsia, will buy in the Tune Hotels concept. The brand aims to be a reliable product regardless of location.
Tunes Hotel also wants to erase the stigma normally associated with budget hotels by offering value prices for great location, safety, comfortable beds and a clean shower. "In Asia, leisure is becoming more important. People are traveling more often because its cheaper," he says.
The typical Tunes Hotel guest will be the business traveler wanting affordable rates because he is only staying for a short time.  Currently, AirAsia's hub in Luzon is located in Clark Airbase in Angeles City, Pampanga.
To celebrate its Philippines launch, Tune Hotels will be offering a P188 promotion for its Ermita, Cebu and Angeles city branches. Starting December 6 to 16, 2011, guests can book rooms at Tune Hotels in Ermita, Cebu and Angeles for only P188 a night. Staying period starts from each hotel's respective opening date up to November 30, 2012. The promotion is offered exclusively online at www.tunehotels.com.
ADVERTISEMENT - CONTINUE READING BELOW
For the latest updates, check them out on Facebook at www.facebook.com/tunehotelsPH or via Twitter at www.twitter.com/tunehotelsPH.