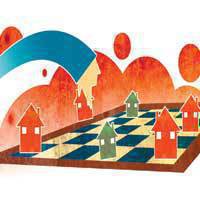 Putting up your own business can be very rewarding in many ways, but it can also be tricky and confusing particularly in the beginning when you are scrambling to obtain your certificates of registration and various licenses and permits.
Your first stop is, of course, the Department of Trade and Industry if you are registering your enterprise as a single proprietorship, or the Securities and Exchange Commission if you are registering it as a corporation or a partnership. Then your second and third stops are the municipal or city hall and the barangay hall for their respective clearances.
Your fourth stop all the way to the eighth stop are the following registration entities: the Bureau of Internal Revenue, the Social Security System, the Department of Labor and Employment (if you employ five workers or more), the Home Development Mutual Fund (for your workers' housing fund), and the Philippine Health Insurance Corp. (for your workers' health insurance).
ADVERTISEMENT - CONTINUE READING BELOW
Depending on your type of business, you may also have to register with other licensing entities. These, of course, are just for the licenses, clearances, and permits required by law for businesses in general. An even more important requirement—one that directly impinges on the kind of business you intend to pursue—are the requirements for where you will be doing your business.
As they say in the business community, the biggest success factor for any enterprise— the one that you really need to plan very carefully—is location, location, location!
Do you want to put up your business within an industrial or a commercial area? If you choose commercial, do you want it in a high-density or a medium-density commercial area? Do you want your business located directly in front of or beside your competitor?
Your choice of location obviously will depend on your target market and, consequently, will determine the level of your sales. The most important concept that you will encounter when searching for an appropriate business location is "zoning." But what precisely is zoning?
ADVERTISEMENT - CONTINUE READING BELOW
Zoning is the division of a community into zones or districts according to the current potential uses of a certain land area. So, anyone who occupies, purchases, or leases property should be familiar with the zoning law in the area. Have you ever wondered why so many competing funeral establishments are lined up in a row on a specific street? Or why drive-in motels tend to be located in clusters in specific areas? The answer is zoning.