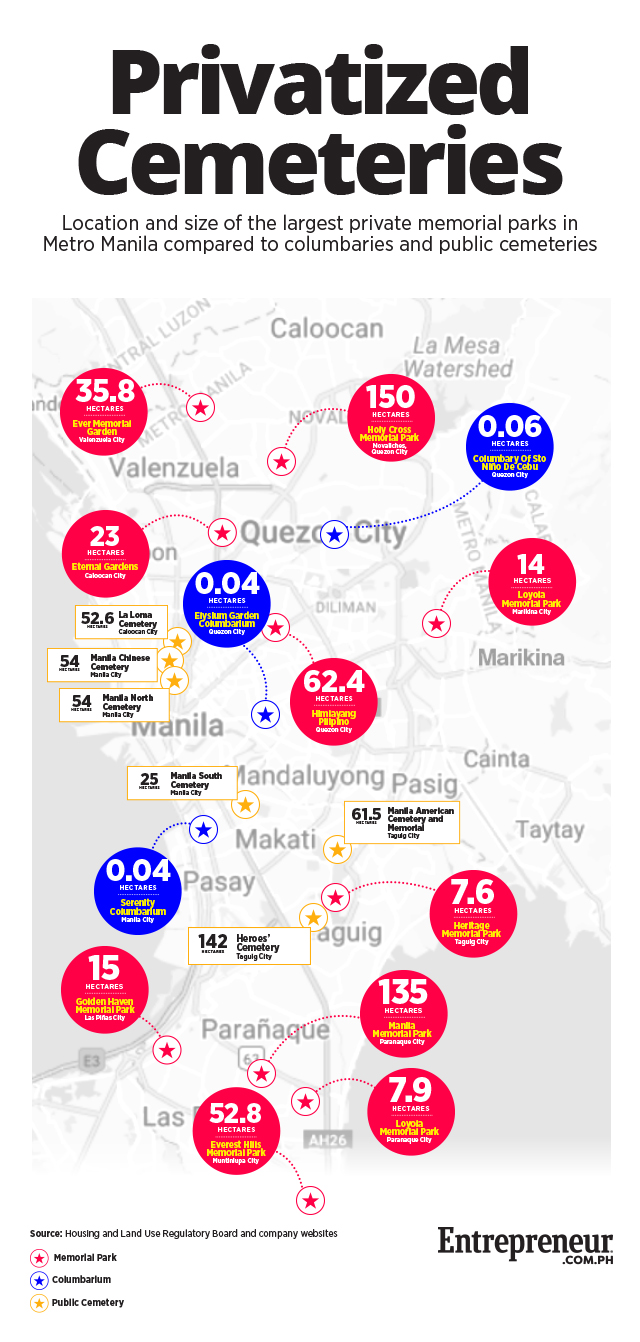 While some take advantage of the special non-working days on October 31 and November 1 to leave the city for a much-needed break, a majority of Metro Manila residents will likely spend the two-day holiday flocking to cemeteries to remember their dead.
In the past, most people go to their town or city's public or church cemetery, where both the mighty and the low, the rich and the poor buried their dead.
ADVERTISEMENT - CONTINUE READING BELOW
That changed gradually over the past few decades with the rise of private memorial parks, which catered to the relatively well-to-do that can afford the pricier lots. Today, there are at least 10 large privately owned memorial parks across Metro Manila, based on information culled from the Housing and Land Use Regulatory Board (HLURB), the government agency that regulates residential and commercial land markets. These memorial parks are operated by eight companies.

ADVERTISEMENT - CONTINUE READING BELOW
In this infographic, Entrepreneur Philippines takes a close look at the owners of the companies behind the largest memorial parks in Metro Manila. We also examine how much money they are making over the past few years.
Based on financial information gathered from company filings with the Securities and Exchange Commission (SEC), the clear industry leader is Golden Haven Memorial Park, which is part of the business conglomerate belonging to businessman and former Senate President Manny Villar. It reported revenues of Php692.8 million in 2015, almost triple its 2012 revenue of only Php207.9 million.
It is followed by Manila Memorial Park Cemetery Inc., which reported revenues of Php605.6 million in 2015. Its revenues had been growing by an average of seven percent since 2011. It was first incorporated by the late Senator Gil Puyat in the 1960s but SEC records show it has since been bought by different private companies led by MJ Gonzales and Associates Inc., which now owns a tenth of the company.
ADVERTISEMENT - CONTINUE READING BELOW
The third biggest memorial park company, Rosehills Memorial Management Philippines Inc., the firm running the seven-hectare Heritage Park in Taguig City, reported revenues of Php300.4 million in 2015. It is owned by one of the richest millionaires in the country, Eusebio Tanco, who also runs STI Educational Systems.
See the infographic above for additional information on the companies behind the largest memorial parks in Metro Manila.
*****
Elyssa Christine Lopez is a staff writer of Entrepreneur PH. Follow her on Twitter @elyssalopz