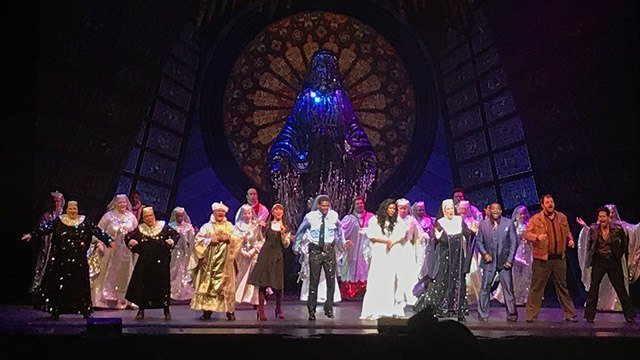 Ovation Productions is bringing in the stage musical Sister Act to Manila this June
Renen De Guia has been a concert promoter for over 35 years. As the president and CEO of Ovation Productions, he and his team have made it possible for dozens of international artists to come and perform in Manila and various other cities in the Philippines. It's only recently, however, that the company has brought in Broadway-style musical productions, too.
ADVERTISEMENT - CONTINUE READING BELOW
The opportunity came in 2013, when representatives of the London-based Broadway Entertainment Group (BEG) led by CEO Liz Koops were in Manila to look for the ideal local promoter to mount the organization's lineup of musical productions. Ariel Yonzon, production and exhibitions manager of the Cultural Center of the Philippines, suggested De Guia.
"Liz then called me, we had a good talk, and we agreed to meet at the Sofitel where she asked if I would be interested to do Disney's Beauty and the Beast for starters," says De Guia. "I immediately said yes."
According to De Guia, Koops actually had a short list of other people to meet about possible partnerships but felt no need to search further after talking to him.
"I think it had something to do with my singing to her Broadway style songs from My Fair Lady!" he reminisces. "She was utterly amused, and to this day tells people why she chose me. So that's how I got started doing musicals: I auditioned! There was no initial small production leading to bigger productions. My baptism of fire was a major musical, Beauty and the Beast, and I'm glad that we did fairly well on our first try."
ADVERTISEMENT - CONTINUE READING BELOW
Ovation Productions is the country's biggest concert promoter by revenue. It is responsible for the Manila appearances of music superstars like Sting, Boyz II Men, Alicia Keys, Lady Gaga and many others. The company's foray into stage musicals was a natural extension not just because of the opportunity presented by BEG, but also because of De Guia's own love for theater.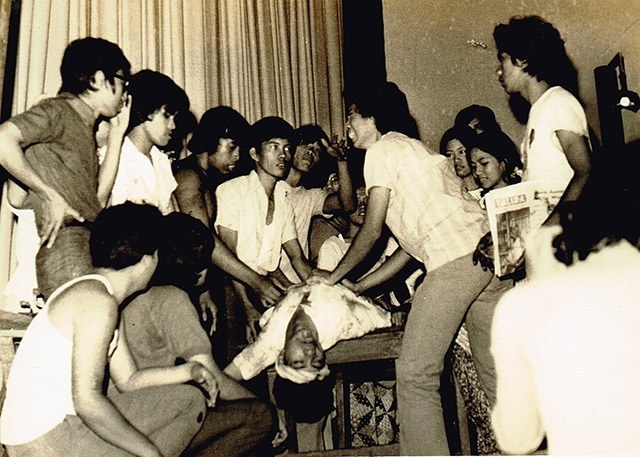 ADVERTISEMENT - CONTINUE READING BELOW
Renen De Guia (center) almost pursued a career in theater in UST
"I almost pursued a career in theater," says the onetime DJ and record label executive. "I won best actor in the 1972 UST Inter-Collegiate dramafest where I represented College of Engineering during my freshman year."
Unlike local theater groups that mount productions with a local cast and crew, companies like Ovation buy the rights of international touring productions, mostly of big Broadway-style musicals, in order to stage them in Manila. Ovation, in turn, generates revenue through ticket-selling and corporate sponsorships, just like in concerts.
But unlike concerts, which are typically a one or two-night production, stage musicals last for weeks, involve more people and are a lot more complicated logistics-wise. This is perhaps one reason why Ovation took its time after mounting Beauty and the Beast and focused on its core business of live concerts, producing a total of 19 shows in 2013, the most so far in its history.
ADVERTISEMENT - CONTINUE READING BELOW
Next month, however, the company is bringing in its second stage production, an adaptation of the movie Sister Act, which first came out in 1992 and starred Whoopi Goldberg.
Identifying the challenges in this relatively new venture, De Guia says audiences for concerts and musicals are markedly different, and that corporate sponsors are not as easy to come by.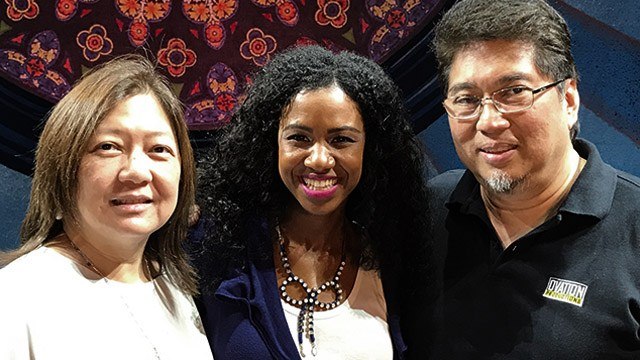 ADVERTISEMENT - CONTINUE READING BELOW
Renen De Guia and his wife Cel pose with stage actress Dene Hill (center), who plays the lead role of Deloris Van Cartier in Sister Act
"The market for Broadway musicals wants to be constantly reminded and persuaded through EDM or electronic direct mail," he says. "Credit card companies were great sponsors as they can tap their huge customer base for this. Unfortunately, they don't sponsor as much these days. Also, these productions generally require bigger capitalization, more extensive and sustained advertising and publicity, and more work relating to the gala night, souvenir programs, etc. The ticketing company plays a much bigger and very important role in the overall marketing effort."
Despite all these, more stage musicals—and concerts—are in the pipeline for Ovation in the coming months and years.
But as he is a serial entrepreneur, De Guia is also currently exploring other avenues of growth for the business. "What I can see is doing something additional on the side, just like in the 1980s," he says.
ADVERTISEMENT - CONTINUE READING BELOW
Back then, De Guia was also into garment manufacturing, screen printing and retailing of T-shirts. "We had a very popular brand called TOP40 T-Shirts which basically started as concert merchandise," he says. "We also had 20 stores of Pop Station Records where we sold CDs, cassettes, headphones and accessories such as CD display racks." He says the business was okay for a good number of years, but the market steadily disappeared.
"Even brick-and-mortar type retailing are now declining in other countries due to the internet," he adds. "Soon there will be deliveries by drone. We need to be continuously open to opportunities."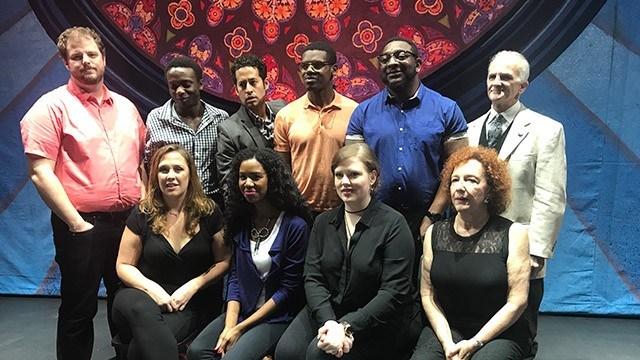 ADVERTISEMENT - CONTINUE READING BELOW
The cast of the musical Sister Act, which will open in Manila next month
Today, De Guia is also branching out into the supplier side of the business, providing other event companies with products and services like generator units and some crash barricades. "My son Bogie is getting to be known as a good production manager for big events which are not necessarily Ovation's," he says. "It would be good that when people think live events, they think Ovation."
*****
Paul John Caña is the managing editor of Entrepreneur PH