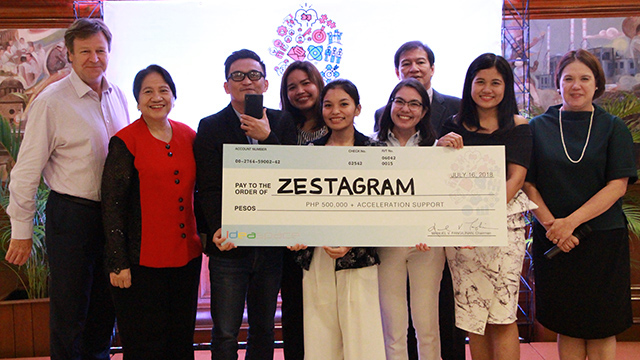 Central to the journeys of most successful startups is the pivot, or the point when a startup's founders decide to adjust or even completely overhaul a business model that hasn't taken off as expected. One of PLDT Chairman Manuel V. Pangilinan's most memorable quotes is "It's either we pivot or we perish," where he refers to how his company needs to continuously innovate to stay relevant.
ADVERTISEMENT - CONTINUE READING BELOW
While Gladis Morales' startup isn't as large as PLDT, she knows the importance of a pivot all too well. A critical pivot made last April led to Zestagram winning over Php1 million worth of funding, mentorship and other prizes from the recently concluded IdeaSpace Startup Competition, an annual event held by Metro Pacific-backed startup incubator IdeaSpace Foundation.
"When we started with Zestagram, we started it as a freelancing platform for students," the 23-year-old Morales told Entrepreneur Philippines, who founded the education technology startup in 2016 and sits as its CEO. "But we weren't receiving enough traction to scale it."
Morales, who graduated from Far Eastern University with a degree in accounting, found that the reason her business was lacking traction was because college students were looking for jobs not because of the money, but because of the work experience they needed when they applied for jobs after graduation. As well, when they tried the service out with scholars, or students from lower income brackets, they found that those students preferred job opportunities with a steadier source of income, such as those in the service industry.
ADVERTISEMENT - CONTINUE READING BELOW
Adding onto the challenges was Morales' original Zestagram team. Before winning IdeaSpace's competition in 2018, Morales had already entered the year prior, and Zestagram was already at the final stages of the several-months-long contest when her entire team quit the company.
"We [were] in the finals na. The pitch was the only one missing," she shared.
Despite the setbacks, Morales persevered, and she was able to find another team that helped her pivot the startup to its current business model, which she describes as an "internship-to-employment platform." They pivoted the business in April 2018, and they have since been onboarding both companies and students on their platform.
And the pivot paid off—Zestagram was selected as one of the six winners of the 2018 IdeaSpace Startup Competition, making them part of IdeaSpace's portfolio of 74 startups. For winning the competition, Zestagram received Php500,000 in equity-free funding, mentorship and training services, a Makati office space and legal services, which IdeaSpace estimates is worth Php1 million in total support.
ADVERTISEMENT - CONTINUE READING BELOW
Related story: 6 PH Startups Win Php500K and Mentorship at IdeaSpace's 2018 Startup Competition
Through the Zestagram platform, college students and fresh graduates can browse internship opportunities from several companies. But unlike usual internship programs, Zestagram's offerings aim for their users to be absorbed into the company by the end of their internship periods.
"Usually on a 30-day average period, it will work as a trial employment. That's the internship period," described Morales. "And then after the trial employment, the company will decide to absorb or not." She revealed that 80 percent of interns who apply through Zestagram ends up being absorbed by their respective companies.
Since its pivot last April, the platform has already received 1,000 sign-ups from college students and fresh graduates from 20 schools. According to its website, these include big-name universities in Metro Manila such as the University of the Philippines, Ateneo de Manila University and De La Salle University. While Morales wants to focus on growing the market in the region first, her team is already looking at expansion services, saying that they have already partnered with firms allowing them to offer the service to Clark in September.
ADVERTISEMENT - CONTINUE READING BELOW
On the other end, the company has also onboarded 23 companies by the time they pivoted last April. These range from startups such as StyleGenie and BeamAndGo to large corporations such as Sun Life Financial and Metro Retail Stores Group. Morales also revealed that they are on track to onboard 4,000 companies by the end of the year due to securing partnerships with business associations.
"Some of their members already tried [the platform] and they referred it, so it went through the association," she said.
With a solid growth trajectory ahead and with support from one of the country's largest investors in the startup space, Morales is eager to see where these opportunities take her and her company. But despite the major pivots and internal changes her company has gone through, she still keeps true to her aim of helping students start their professional careers.
"Our startup has been through some changes but one thing that has not changed and will remain constant is our passion to help students," wrote Morales in a post on Zestagram's Facebook page following the company's win in the IdeaSpace competition. "We will always be a company of and for students."
ADVERTISEMENT - CONTINUE READING BELOW
*****
Lorenzo Kyle Subido is a staff writer of Entrepreneur PH