Dear Amor,
 

I heard local sourcing is currently the rage in the US; and that the trend is starting to gain a massive following here in the country. I was wondering what makes it a hit? My friend's about to open her own grocer and she mentioned she wasn't too keen on the concept of sourcing locally.
 
How do I convince her about its benefits?
Please help me out.
 
Thanks,
Frederick G.
 
ADVERTISEMENT - CONTINUE READING BELOW
Dear Frederick G.,
 
A friend helping out a friend is a noble burden to take. I'm glad you're doing your best to offer your friend the best advice you can offer. Locally produced goods have begun to entice more companies due to quite a number of reasons. Let me give you compelling points that may soon add your friend into the long list of establishments who champion local sourcing.
 
1. Quality goods, quality served

Nowadays, buyers and diners are not just influenced by taste–most of them rely on quality, on whether or not what they put inside their body is good for their health. In this age of nutritional concern, traceability of a food's origin plays a big role.
 

ADVERTISEMENT - CONTINUE READING BELOW
ADVERTISEMENT - CONTINUE READING BELOW
ADVERTISEMENT - CONTINUE READING BELOW


2. Control over the food chain

From planting to food preparation, cooking and serving, with sourcing locally, you get to lord over streams of operations. You can visibly inspect and know the whole process of what your source is. This is true especially for those who went for hyper-local sourcing, which is simply growing crops in your own garden, a requirement for house-made, farm-branded, and artisan labels. This also means you become less dependent on imports, which makes it cost-effective because with less import, there's less money on transport delivery and less hassle on customs. This enables your business to become more self-sufficient. You are actually shifting the control from the boardrooms of overseas giants back into your own community where it truly belongs.
 

ADVERTISEMENT - CONTINUE READING BELOW
President and Co-owner Cathy Turvill shares that in sourcing materials, they are guided by a sequence:  a. plant what we need, to the extent possible (vegetables grown from their own farm include: kale, lettuce, tomatoes, carrots, radish, beans, eggplants, ginger, cauliflower, etc.), b. Source from the Barangay (bananas, pineapples, coffee are sourced from their Barangay), c. source from the nearest local market (they source their beef and chicken from Mahogany market), and d. Source from the country (they avoid imports to the extent possible)
 

ADVERTISEMENT - CONTINUE READING BELOW
ADVERTISEMENT - CONTINUE READING BELOW

3. Community empowerment

Local sourcing is community-driven. When you source locally, you're helping the local economic drivers at the same time increasing their knowledge/awareness about environmentalism. "Everyone should be involved. Everyone has the right to support and participate in a noble program of local sourcing and benefit from it," shares Ricardo Manuel Sarmiento, Executive Vice President of Vitarich Corp., one of the country's pioneers in feeds and poultry production. "Local sourcing is good, especially if it's within the vicinity of our feedmill, because it will perk up economic activity within the locality, create income and partnerships."
 
"Buying products from local sources helps communities to sustain their livelihood.  We are supporting local farmers to continue their production and operation to create and maintain employments in their respective areas," Ricardo Manuel adds.
 
As an advice, Ricardo Manuel shares that, "We need to support our Filipino farmers for the production of locally sourced products.  Wheat and Soybeans are domesticated food crops and have been the basic staple food for human and animal grade. These two products had been the major import products from different sources in the world. It could be cheaper if we produce for our own consumption, reducing on dependency on the import product."
 

ADVERTISEMENT - CONTINUE READING BELOW
ADVERTISEMENT - CONTINUE READING BELOW
"Let us support the Filipino food industry. Affordable price means local products because it does not have fixed cost like shipping fee and taxes as well, and it bring good for the whole country because we will all benefit from this, economically and financially," Ricardo explains.
 
When asked about what product or process in our country deserves more attention, Ricardo answers: "In Agriculture and Food, we should enhance corn farming which has the biggest requirement from livestock. There is also big opportunity for cattle-raising to augment shortage in beef supply. We should also encourage business expansion on Pangasius fish farming to meet its growing demand in the trade."
 
"Also for foods, we can be able to buy back all the produce of our customers like hog, chicken, quail and duck eggs and broiler, like what we are already doing now. There is still big potential for the dairy business in our country since 95% of our milk and milk products are still imported. Our company has already developed products and farming techniques that significantly improve dairy production. Several entrepreneurs who ventured and are collaborating with us have seen the profitability of this business."
 
4. Bolster the pride of every Filipino

ADVERTISEMENT - CONTINUE READING BELOW
Local sourcing helps bolster the nationalistic pride of every Filipino. People feel proud when they hear about a well-made authentic Filipino product getting the recognition it deserves. And Filipinos are all about global recognition.
 

ADVERTISEMENT - CONTINUE READING BELOW
ADVERTISEMENT - CONTINUE READING BELOW
5. Protect our environment

The way the environment of a region is taken care of impacts the way the food and other goods are produced. Support for local produce means support for the distinct environment as well. It means you give the world far less carbon footprint and less food miles, which means less traffic for your supply, reduced fuel consumption, single drop offs and less packaging. Century Tuna is a major proponent, having once promoted an artisanal handline tuna fishery in Pasuquin, IlocosNorte. It was an initiative that aimed to improve local fisheries management while ensuring the sustainability of the area's small-scale handline industry.
 
If you ask me, local sourcing is a way of going back to our roots and giving it the recognition it deserves. I am a firm believer of our country's multi-industry potential, whether it is in the agri-agro, in agrifishery, or agri-industrial, or maybe in tourism, food and retail. Local sourcing ingrains sustainability in your value chain, and you help out communities in the process. That's the number one equity of local sourcing, that it's a win-win situation: you're not only helping yourself win, you're helping others, the country, AND the environment as well.
 
Thank you and good luck,
Amor

ADVERTISEMENT - CONTINUE READING BELOW
About the columnist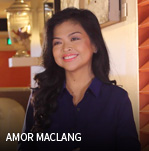 Amor Maclang leads GeiserMaclang, an internationally awarded full-service marketing communications company that steers leading names in a diverse field of industries. For more information and to post her a message, visit Geiser Maclang Network 's online directory listing here.