Dear Amor,


I am a proud grocery store owner, eyeing on branching out with my own regional chains in the near future. My question is: would it be better to do CSR this early on, or would it be best to wait until my reach has widened and my resources have accumulated to a significant amount? In a company's lifecycle, when is the best time to start giving back?

Please help me out.

Thanks,
Virginia M.

ADVERTISEMENT - CONTINUE READING BELOW
Dear Virginia M.,

My heart just can't contain itself upon reading about your concern. You see, Virginia, #doingwellanddoinggood is a personal favorite among all matters of interest in my expertise, partly because it affords me a chance to tie the rigid structures of enterprises and economies to something that far outweigh their value, in a humanitarian sense; I'm given a chance to add more meaning to the things we already consider important.

It's a perspective I have come to cherish, specifically in dealing with some of the best brands in the market today. Now for your question, I've outlined a few steps that would guide you on the right path to #doingwellanddoinggood. Of course, the items include key insights from market leaders, some of which I admire and have made the pleasure of working with, so please, indulge in a kind of business read that instructs you with the simple tenets of #doingwellanddoinggood.

Foster the CSR consciousness early
#Doingwellanddoinggood comes first

Just as how a legacy should be mapped out early in life, so too should start-up companies begin thinking about #doingwellanddoinggood early in the game. Pilmico FVP & CRO Maribeth Marasigan says, "The consciousness to #dowellanddogood should be integrated in the culture of an organization as early as the incipiency stage." She adds that #doingwellanddoinggood is a strategic tool that can be used to differentiate a company from the competitive clutter.

"In the lifecycle of a company, it would be ideal for CSR to already be a core component of the business strategy and culture - from the very start, from the inception and on its business development and planning stage," shares Celso Caballero III, WeatherPhilippines Foundation's General Manager. For Celso, company talks on shared value and integrating CSR strategies to its core is crucial in today's business environment. Establishing your stand, making it known that you are a company who cares and who wants to make a difference, more than just gaining profit, is your first step in making strides in the realm of #doingwellanddoinggood.

Connect the CSR dots
Issues to problems, problems to causes, causes to core values

#doingwellanddoinggood is an excellent way of tying your brand promise to a higher meaning. In Maribeth's case, at Pilmico, the initiative began upon noticing that backyard farmers are slowly diminishing and taking their business elsewhere, if not stopping altogether.  "Ninety percent of our business is via retail which caters primarily to the backyard farmers, and as such we needed them to carry on, for us to carry on." This is what gave birth to Mahalin Pagkaing Atin. What Pilmico did is they elevated the discourse on promoting sustainable livelihood for local farmers and shift the discussion towards creating preference for the homegrown category, thereby instilling a deeper pride of place and product.

ADVERTISEMENT - CONTINUE READING BELOW

For a CSR to work, it has to be tied to the brand's nature, as well as a societal issue deeply entrenched in the company's value chain. Take for example, Globe. Globe provides utility, a public service, which is, as expected, embedded in the brand's vision. For their CSR, Globe found a way of looking at the bigger picture and have their efforts directed towards nation-building, something that goes beyond providing telco services.

"In the last couple of years, Globe has been all about shaping the Filipino digital lifestyle – enriching Filipinos' mobile experience with the latest innovations, offers, and services. We found that this also extends to our CSR," shares Fernando Esguerra, Globe's Corporate Social Responsibility Director. "One of our banner programs, the Global Filipino Schools (GFS), seeks to transform select public schools into centers of ICT excellence by providing them the infrastructure and training needed to bring learning into the 21st century." For this project, Globe makes sure that teachers are trained to maximize their technology and use the latest teaching techniques to improve critical thinking and collaboration in the youth – skills which they will need to succeed in today's digital age.

 
ADVERTISEMENT - CONTINUE READING BELOW

Another remarkable example is WeatherPhilippines' #WeatherWiser campaign. "One of our biggest core values is social responsibility; WPH definitely takes that to heart. What we are doing is something that gives back to the communities and to the country. Everything we do, we make sure, makes an impact to the country and helps resolve the issues the country is confronted with," shares Celso.

When a CSR is aligned to the brand's values, and is made to address societal issues relevant to the brand, the rewards can be substantial: you will naturally be perceived in a good light, which will then pave the way for people to spread the word and have more people learn about your brand. There are a lot of examples for a well-aligned CSR initiative; Shell Foundation, an independent charity established by the Shell Group in 2000, creates and scales new solutions to global development challenges. Their focus is on social and environmental issues linked to the energy sector, and leverages on Shell's network to deliver impact to where it is needed.

San Miguel Corporation, through its corporate social responsibility arm, San Miguel Foundation, proactively reaches out to others to bring forth change that enable communities to live better lives. Their initiative is closely-tied to the values of integrity, teamwork, respect for others and social responsibility - corporate values that guide San Miguel employees in their everyday lives.

Enlist partners to the cause
Networking for the greater good

Fernando of Globe believes that establishing sound partnerships with the right organizations is valuable in executing and developing effective CSR projects. "You can build on one another's strengths and further amplify your impact," he explains.

This is also the case with WeatherPhilippines. "We took a societal issue of a massive scale, which is disaster risk reduction and climate change adaptation - and for such a scale, it's best to enlist the help of partners." More often than not startups and SMEs would not have the resources to start on its own. That's why it's best for them to look for partners to help sustain their initiatives.  LGUs, the private sector, NGOs - they are always good options for partnerships.

You'd be surprised at their willingness to be involved with causes and advocacies. What's important here is that the more allies you add to your arsenal, the bigger your chances are at creating a larger impact to the people affected by your cause.

Develop a Sound Strategy
Optimize strengths to reach goals and overcome threats

Globe's core business is information and communications technology, so it only follows that the telco leverages on said technology to provide innovative solutions on social problems. Doing so is also beneficial to the company, as it brings their products and services to the fore. "Harness what you're good at in order to have maximum impact," Fernando shares.

Moreover, technology also came to the rescue when it came to their biggest challenge: geography. "Given the lay-out of the country and the fact that many communities that need our help the most are geographically isolated, we needed to find innovative ways to ensure we reach even the most far-flung communities. To do this, we harnessed the different types of technology at our disposal." SMS and Interactive Voice Response systems were utilized for those with no Internet connections and mobile data was used for downloading interactive teaching content, among other things.

In WeatherPhilippines' case, the issue is of national importance. Early on, they had it stated that their target organizations and stakeholders comprised of the entire country. "Every Filipino has a stake on disaster risk reduction and climate change adaptation," Celso explains. Unlike other CSR activities which are focused largely on host communities, WeatherPhilippines differentiates by having a more relevant and larger issue than a typical CSR project. They addressed this by rolling out Automated Weather Stations on meteorological sites all over the country.

 
ADVERTISEMENT - CONTINUE READING BELOW

SM Cares, a division of SM Foundation, does its part in supporting communities by providing people with opportunities to take part in recycling efforts like the Trash to Cash Recycling Market, a project implemented back in 2007. SM's immense reach played a key role in raising awareness on environmental efforts and providing a public incentive on recycling all waste materials properly. Having gained widespread participation from customers and communities, the initiative allowed market patrons to exchange waste and recyclable household items for cash and useful household goods. Unilab Foundation aims to build a healthier Philippines by identifying health gaps and piloting interventions to address them. Their interventions target and serve children, women, the elderly, and other marginalized sectors. The company uses its resources to execute their programs well.

Geek about your CSR
And get everyone on board

A useful advice for #dowellanddogood beginners is to be sincere and genuine in building a purpose-driven organization. You guys need to make sure that the intent, the values, the purpose of your initiative, everything - make sure they all trickle down from one campaign element to another.

Unilab Foundation made their logo an expression of their philosophy. Everything, from the bright colors to the shapes added, is a testament to their vision. Even Bayanihan, Unilab's core value, is represented on the logo with the circles coming together for a common cause.


ADVERTISEMENT - CONTINUE READING BELOW

In closing, #doingwellanddoinggood is not for the faint of heart. It is for vanguards of social responsibility who think more about the spirit of their commitment over any other agenda. Its effectiveness, after all, is not measured by how much your spending or how advanced the innovation you're introducing, what's significant is how genuine your impact is on the lives of those have touched.

Whatever way you carry out your #dowellanddogood initiative, remember that it not only needs to be sustainable or groundbreaking, it also needs to be authentic. However small or big it may be, whether you start by segregating your waste or by searching for a host community to sponsor, you need to mobilize for a greater good that goes beyond superficial concerns. Do that and all the best will soon follow.

Best regards,
Amor

About the columnist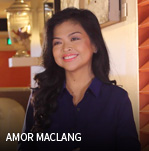 Amor Maclang leads GeiserMaclang, an internationally awarded full-service marketing communications company that steers leading names in a diverse field of industries. For more information and to post her a message, visit Geiser Maclang Network 's online directory listing here. 

ADVERTISEMENT - CONTINUE READING BELOW