Dear Amor,


My partner wants us to start planning on running a startup coffee and tea place, but I kind of want a place that offers nail and spa service. Is it possible to combine both? Do we have a chance at making it in the industry if we start a tea place-slash-beauty spa hybrid? Would that even work? I mean, if we have more offerings, does that not mean we'll get more customers, as well?
Please share your thoughts.

Thanks,
Confused Cam

ADVERTISEMENT - CONTINUE READING BELOW
Dear Confused Cam,

It's easy to think that offering a plethora of things in one place doubles the customers you attract, but make no mistake, for in this route, careful planning is needed. Sure, the urge to make your startup a one-stop shop is attractive, but this tactic relies heavily on a couple of factors. Here are some equations to consider.

Equation #1: Confusing menu = decision inertia

What is decision inertia? It's what we experience when we go to an establishment set on a specific goal, but end up changing our minds upon seeing a different product or service available. It's when you go into a place to have tea, but end up befuddled as to where to spend your buck on seeing that they offer spa and bath services, as well.

The challenge lies in offering your customers more while staying single-minded. A confusing menu filled with a chockfull of related offerings could be easy to venture into, given you already have the resources, but to a customer, that always tends to overwhelm. Flooding your market with offers saturates your equity, and doing so runs the risk of losing patronage.

Equation #2: Rich customer experience = Customer experience + focused approach

A fad goes whenever something new comes up. This is the same with businesses. The secret to staying in the game is to make fickle your assumption when it comes to your market. Never wane in your strategy. Instead, you must strengthen. Remember, something improved is always better than something new. Your marketing strategy should go high and broad, not haphazardly stretched thin to cover more ground.

Plan your customer experience with a streamlined approach. Make sure the moment a customer steps into your door, he or she instantaneously feels an intimate kind of service that's not just well-thought off, but is also aligned with the values and the philosophies of your brand.

A surefire way to lose your hold on your market is to aim to conquer as much ground as you can without having a core concentration. Build your brand identity with that in mind. Think about it, carefully. What sort of services are you proud to offer? What are you really good at? Where does your strength lie? Why do people go to you? Where do you make the most impact?

Once you have those figured out, it's time to go to the third equation.

Equation #3: Biggest lure + Experience add-ons = Market success

Hybrid businesses come a dime a dozen but not many of them become successful. Take the spa-bath-tea hybrid, for example. You don't really have to offer everything in the business of relaxation. Just focus on one thing and set aside the other as a secondary.

Identify your biggest lure. Don't get carried away with other services. Never market yourself as a two or three service provider when you know you're only good at one. Categories can only do so much in identifying which market or industry you serve. The secondaries can be made add-ons. That way, you're sure to enrich the experience while staying streamlined.

If you want your business to flourish, plan your offerings ahead. Steer clear of the disconnect by building your core value and fortifying your equity. If you want to be known as the best cafe this side of the metro, focus on that. If you have a background on brewing, do that. Or maybe, you consider yourself a beauty expert; then by all means, offer beauty services. Just don't be like a cafe and a fine dining restaurant at the same time, with a bakery on the side. Always remember: in the world of business, distinction is always valued higher than variety.

Best regards,
Amor


ADVERTISEMENT - CONTINUE READING BELOW
About the columnist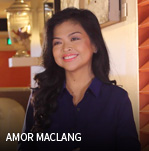 Amor Maclang leads GeiserMaclang, an internationally awarded full-service marketing communications company that steers leading names in a diverse field of industries. For more information and to post her a message, visit Geiser Maclang Network's online directory listing here.