<>
Dear Amor,
 

I run a small food service establishment with a menu that doesn't really have anything unusual in it (well, to most people at least). Business has been going steady for quite some time now, but it would really help if I get that extra oomph in the balance sheet. Seeing that I don't really have a marketing budget, I often resort to small online gimmicks and promos.
 
As far as self-promotion goes, I could go on and on about how wonderful my products are whenever I get the chance. But I could only go so far, given that there's really nothing too special about our menu items.
 
Any suggestions?
 
Regular Fare
Dear Regular Fare,  
I especially love the honesty that comes with admitting the challenge that you face in marketing seemingly (dare I say) conventional food items. It takes real passion to acknowledge one's own weaknesses. 
Speaking of passion, have you ever thought about promoting your passion for the items on your menu? 
I'm not talking about just rambling about how you love it. I'm talking about showing your obsession across all customer touch points. 
Consider one global coffee chain that has broken barriers to grow wildly popular across various age groups and demographics. Do they use a different espresso machine? A different blender? Different milk? No. Even the beans they source aren't really exclusive to their brand. So what set them apart? 
Passion. Plain old passion. Their obsession, actually. 
While I'm not saying that quality has nothing to do with their success (they have excellent coffee), what I'm trying to laud here is how they've successfully promoted their obsession for what otherwise would appear as a regular cup of Joe. They've done it with such attention to detail that their obsession manifests itself in every observable facet of their business.  
Their store interiors and marketing collateral painstakingly detail just how much they pore over every aspect of coffee making—from sourcing the beans, to roasting, blending, and just about everything there is to brewing the perfect cup. They make sure that everybody who enters their store is thoroughly immersed in the coffee culture, and they've become so good at it that it's hard not to share even a little bit in this obsession once you step out. 
If you check out the planners that they give out, they barely mention anything about "how good our coffee is". Instead, they take you through the various little nuances about the whole coffee process. It's short of becoming an indoctrination document to turn readers into
baristas
themselves. 
Passion is sexy, and it can turn the most mundane thing into a phenomenon. Consider promoting your obsession, and make it visible in every aspect of your business. 
Let me know what happens.  
Amor
About the columnist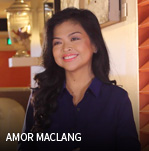 Amor Maclang leads GeiserMaclang, an internationally awarded full-service marketing communications company that steers leading names in a diverse field of industries. For more information, visit www.geisermaclang.com .

Do you have a business question you'd like to ask Amor? Email her at info@geisermaclangnetwork.com .

ADVERTISEMENT - CONTINUE READING BELOW