Dear Amor,
 

I am a businesswoman who is bringing a healthy snack bar concept from the US to Manila, and I've been thinking about tapping a celebrity to represent the brand and really get the word out there. This popular actress, aside from her noontime primetime shows on local TV, is also known for her active lifestyle.
 
However, I've seen your campaigns for another imported brand in the Philippines, and you seem to have succeeded in going the road less taken by getting athletes and bloggers on board for endorsement. How can I determine if a celebrity or an influencer is the right endorser for the brand's campaign?
 
GoodnessGuru
 

ADVERTISEMENT - CONTINUE READING BELOW
Dear Goodness Guru,
 
The first thing you need to determine is: do you purely want to get the word out there by associating the brand with the name and face of a celebrity, or do you want the brand to develop its own identity and reputation in the eyes of consumers?
 
Here's what marketers do: they hire celebrities and other popular figures to amplify the brand, and hire influencers to shape a brand's reputation. Back then, all we ever seemed to be concerned about was popularity. Now, marketers are leaning more towards influence.
 
By getting an influencer to represent your brand, you are tapping someone who has authority and credibility to speak to your target market. How do you know who your target market is? By determining what type of people you would deem your brand to be associated with.
 
A gorgeous actress smiling from a billboard in EDSA holding a snack in her hand simply isn't as convincing as a chef or an athlete who can rave about its merits.
 
So, would you rather get someone popular or influential to represent your brand? I'll leave that for you to decide.

Good luck!
 
Amor
 

ADVERTISEMENT - CONTINUE READING BELOW
About the columnist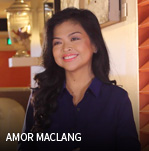 Amor Maclang leads GeiserMaclang, an internationally awarded full-service marketing communications company that steers leading names in a diverse field of industries. For more information and to post her a message, visit Geiser Maclang Network 's online directory listing here.