Dear Amor,
 

I'm a businessman eyeing to franchise a food chain in Metro Manila. My dilemma, however, is choosing which brand to settle on for this move. My safest bet is to go for a tried-and-tested American brand that's been around here for decades. On the other hand, I've also been surprised by how the surge of Asian restaurant chains are doing well in the country—even faring better in today's market than those from the West. Should I just trust my gut and go with a big western brand? Or is there something about Asian brands that I'm missing?
 
Sincerely,
Deep Fried
 
    
 
Dear Deep Fried,
 
There's more to choosing franchises other than their hemisphere of origin (location, target market, budget, to name a few). I wish to recalibrate your perception, however, about Asian brands and the region in general.
 
Despite being riddled with several financial crises, the latest rankings reflect that in terms of doing business, this age belongs to Asia. Let me correct a few misconceptions and share with you some insights as to why the momentum of growth has shifted in favor of Asian brands.
 
Myth #1: All Asian brands are conservative

Gone are the days where the East emulated everything from the West. After its historic focus on manufacturing and service to global multinationals, Asia is rapidly moving forward with broader mindsets, more sophisticated developments, and modern investments. This is why brands native in the region headlining top industries including technology, food and beverage, and clothing. Just look at how more people are carrying around Samsung handsets, digging into wings at Bon Chon, or shopping in droves at Uniqlo.
 
Myth #2: Asia is a homogenous entity

Veering away from tired stereotypes and colonial imagery, a closer look at the region, in fact, reveals a myriad of cultures—from the culinary distinction of Thailand to the technological prowess of Korea. This gives brands the opportunity to leverage on the characteristics of their respective nations to build their identities and create unique experiences that consumers would fail to get with competing enterprises that offer otherwise. See how Japanese retail store Muji entices consumers with products that reflect the minimalism true to its provenance.
 
Myth #3: Asian brands not from Japan, China, or Korea cannot make it

Inferiority complex is one of the first things that must go when unlocking potential in anything. While it's true that some of the world's most valuable brands hail from the Japan, China, and Korea, companies from other nations did not let timidity stunt their growth. In the Philippines, local artisanship is a core asset that enterprises are more aggressively recognizing. Just last month, business owners who were part of the Bangon Negosyanteng Bisaya trade fair displayed the competitiveness of Eastern Visayas.
 
With a paradigm shift happening, the key takeaway for businessmen is to realize that Asian brands are long over being mere fads—they are here to stay and to prove that they are forces to be reckoned with.
 
Good luck and all the best,
Amor


ADVERTISEMENT - CONTINUE READING BELOW
About the columnist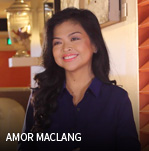 Amor Maclang leads GeiserMaclang, an internationally awarded full-service marketing communications company that steers leading names in a diverse field of industries. For more information and to post her a message, visit Geiser Maclang Network's online directory listing here.