Dearest Amor,


I'm an old-fashioned and traditional marketer. Recently, I've been familiarizing myself with sites such as Facebook and Twitter as avenues for me and my company to further market our services. I have just gotten used to these platforms when I read somewhere that people are now shifting into mobile messaging apps. I know that people have a tendency to go into fads and follow the hype, but is marketing through mobile messaging apps something I should look into?

Sincerely,
Overwhelmed Ophelia

ADVERTISEMENT - CONTINUE READING BELOW



Dear Overwhelmed Ophelia,

Thank you for your very insightful question. With the fast-paced way the world and technology moves now, dilemmas such as this will come up more often than we care to admit, so it's okay to feel overwhelmed.

As someone whose company has a digital component to our business, I can definitely say that digital is the way we as people in the marketing industry can move into the future. Right now, there are a growing number of people who own smartphones that give them immediate access to the internet, which means that marketing tools, if positioned properly, will reach a greater number of people.

If you are not sure about taking the next step and moving to using such applications, don't fret. It's better to have a solid foundation for your business before venturing forward onto relying on technology. Make sure to do research and know who your consumers are, what they want, and what they need, so your marketing strategy complements the people it's servicing.

Here is my take on what mobile marketing means for the entrepreneur:

Quick and convenient communication

Messaging apps allow people to get a message across as quickly as possible. With push notifications and instant messaging, consumers get direct access to businesses they are interested in. Locally, there are a growing number of businesses that are using outlets like Kakao Talk and Line to get their services and promos across to consumers. Messaging applications allow people access to their favorite businesses and stores from apps they use on a daily basis.

For any business, this is crucial because getting your message across as quickly as possible means it reaches more people within a shorter amount of time. Time is money, and the quicker people know about services, promotions, and announcements, the higher the chance it gets spread out.  

Reaching the right market

With an increasing number of people switching to smartphones, messaging apps make it easier for businesses to reach their target market. These apps are helping make marketing easier by letting consumers easily follow what's happening with businesses, giving consumers the control to choose what and who they want to follow, and what information they choose to take in. Rather than numbers and the amount of followers one has, messaging apps target quality instead of quantity.

It makes more sense to reach out to 1,000 people who are sure to appreciate and buy your products, than to have 10,000 people who know about your product but don't appreciate or show any real interest in what you have to sell.

Greater feedback

There are more people who own mobile devices than there are people who own personal computers. This means that if you give people access to messaging apps on a mobile device versus a computer, there will be a higher percentage of people who read and acknowledge the message on their mobile device than through their computers. This is more effective because the people you're reaching out are able to read what is being sent out, instead of having that message or that email sent to a SPAM folder.  

Public versus Personal

One of the things I believe makes messaging apps an effective marketing tool, is that they reach out to consumers on what feels like a personal level. Brands are starting to see the effectiveness of personally reaching out to their customers and making them feel special. Nowadays, emails are not that effective in giving a personal touch, as opposed to receiving a message that looks written especially for you, even though it is using a template.

Going back to your question Ophelia, there is no need to rush into moving towards a mobile messaging platform if a business or its customers are not ready to be on that kind of level. But with the growth of technology and with a greater number of people relying on their mobile devices, switching to mobile marketing is definitely something you should consider if you wish to be an effective marketer in this day and age.

As people in the marketing industry, it is our responsibility to find the most effective ways to get a message across, and I see messaging apps doing just that within the next few years, if they aren't already doing so.

All the best,
Amor


About the columnist

ADVERTISEMENT - CONTINUE READING BELOW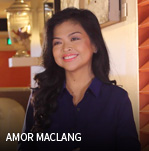 Amor Maclang leads GeiserMaclang, an internationally awarded full-service marketing communications company that steers leading names in a diverse field of industries. For more information and to post her a message, visit Geiser Maclang Network's online directory listing here.