<>
Dear Amor,
 

My modest business has hit a plateau—revenue growth has tapered off over the past several months. I've tried various small marketing gimmicks, but they all failed to make a dent. Lately, I've been thinking of doing a rebranding. I feel like a change in the look and feel of my collaterals would give my market something new to look at and revitalize interest in my services. Could you give me a few tips on rebranding?
 
Mr. Plateau
Dear Mr. Plateau, 
Before anything else, let me just say that rebranding goes way beyond just changing a brand's logo or color palette.  Yes, these are telltale signals, but they merely reflect a change in something that's more fundamental—your brand story. 
Since I know very little about your current situation other than the fact that you've hit a plateau, I can't really give solid advice on whether or not rebranding will help. What I can give right now, though, are a few insights to consider should you choose to rebrand anyway. 
When is rebranding usually in order?
Rebranding usually reflects a major change in a business. It could be an acquisition, a merger, an expansion into a new industry, or a change in philosophy that the existing look and feel do not completely communicate any longer. Should any of these things take place, rebranding could help you refocus your message and keep all bases covered. 
So should you change your brand story?
As I have said, branding is only the vessel that communicates your brand story to your market. There are many factors to consider when retouching something as fundamental as your brand story. 
ADVERTISEMENT - CONTINUE READING BELOW
Is it still relevant at this day and age?
Can your customers still relate to it?
Does it still make you stand out among the competition?
 
If your existing brand story fails to do any of these, you might want to consider revamping it to refresh your connection to your market. Otherwise, please don't consider changing it just for the sake of change.
 
But be careful

Huge changes like rebranding can lead to misperceptions and stir confusion if done haphazardly. Should you push through with rebranding, make sure to use the transition period as an opportunity to steer the conversation and ease your stakeholders into this new chapter in the life of your brand. Don't leave them clueless!
 
Good luck! And please keep me posted on how it goes.
 
Amor


About the columnist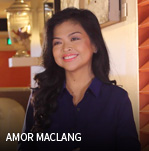 Amor Maclang leads GeiserMaclang, an internationally awarded full-service marketing communications company that steers leading names in a diverse field of industries. For more information and to post her a message, visit Geiser Maclang Network's online directory listing here.
ADVERTISEMENT - CONTINUE READING BELOW