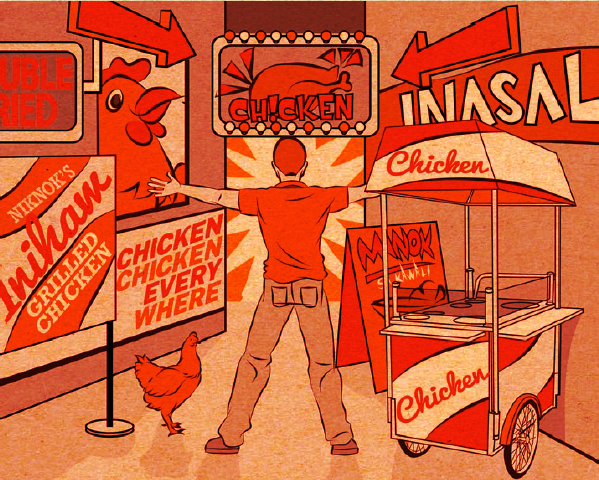 <>Not all partnerships are created equal, especially in the case of aspiring franchisees that are more eager than prepared when entering a franchise deal. With 35 years experience in the franchise business, Rudolf A. Kotik, founder of RK Franchise Consultancy, has seen his share of franchise deals going bad and companies going bankrupt because the parties did not manage their expectations well or they found midway through the partnership they just didn't see eye to eye on running the business.
Kotik gives a rundown of the most common mistakes small business owners make when entering into franchise contract.
1.    Failing to do homework
Franchise buyers should investigate the franchisor before buying anything. Some franchise offers are actually scams. Find out everything you can about the franchisor and the industry before getting that amazingly cheap food cart.
2.    Believing that a booming industry assures success
Some franchisors use the size of the industry they're a part of and their collective potential market as a come-on to franchise buyers. While it's generally important that you are addressing a growing market, this alone will not guarantee success.
The franchisor's standards in staff training, marketing, and site selection, among others, and your commitment to meeting those prescribed plans are more crucial to your success as a franchisee than just the prospects of the industry served.
3.    Failing to read the fine print
Prior to signing a franchise contract, the prospective franchisee must read it carefully. It's strongly encouraged to hire a lawyer to walk you through the contract. In addition to the agreement, the franchise operations manual is another document that binds both franchisors and franchisees and must be read thoroughly.
4.    Buying a franchise when you want to do your own thing
When you buy a franchise, you have to use the franchisor's system. If you insist on doing it your way, you may violate your franchising agreement and risk having it terminated. Stick to the plan or don't buy a franchise at all. It's not only the name of franchise concept you are buying but an entire business, so you have to use all of it. If you have misgivings about the franchise from the beginning, sleep on it first or skip it all together.
5.    Having unrealistic expectations of the franchisor and its system
A lot of franchise buyers think that once they buy a franchise, all they have to do is collect money. That couldn't be father from the truth. Just like in any other business, the more hands-on the franchisee is, he smoother the operations will be and the better chances of the business succeeding.
You must be ready to work long hours to implement the franchisor's business plan. The good thing about this business arrangement is you have the franchisor's plan to give you direction. Most of the variables depend on how well you'll implement the plan and how the market where you are located responds to your business.
Each company also has a culture of its own. Best to meet and talk to the franchisor and some of its franchisees to see how you'd fit in. Some franchisors have started offering lower royalties, minimal renewal fees, and other incentives to show their commitment to their franchisees' success.
6.    Trying to open your franchise outlet for less
Don't mislead your franchisor. If you are overly optimistic yet undercapitalized, you may be doomed to fail---through no fault of your franchisor.
7.    Thinking 'bigger is better'
It's not necessarily true that the more franchises exist in a chain, the more successful they must be. Great marketing, aggressive sales, and an attractive industry can make a franchise grow even though there are better franchisors in the same industry.
Prospective franchisors should contact as many franchisees as they could and ask them how much support they receive from the franchisors. Check other systems to evaluate the satisfaction level of the franchisees. Sometimes, in their eagerness to grow, franchisors over-saturate an area with too many units that end up encroaching on each other's market shares. It can sometimes be an advantage if the franchisee belongs to a smaller franchise and have the opportunity to grow with them.
8.    Believing in 'never be the first franchise in a system'
Who could get more care and attention than the first franchisee to join the company? If the franchisor has good experience in its industry and you are confident that they will be able to help you replicate their success, being the first franchisee should be an excellent proposition. The first recruits often get a cheaper franchise fee than succeeding franchisees and better treatment from its franchisor, since company owners want to show off their franchisees to other applicants as their success story.
9.    Investing in a franchisor with no trademark
The most important part of any franchise awarded is the trademark, duly registered with the Intellectual Property Office. If the franchisor does not secure a trademark for the name and logo, whoever makes a first claim to the trademark can bring up legal matters that could adversely affect the business.
10.    Investing in a franchise system that is not properly developed
ADVERTISEMENT - CONTINUE READING BELOW

In order to save money, some franchisors do their own franchise development instead of hiring professional consultants. The problem with an underdeveloped franchise system is that franchisees don't often get the support they deserve. Franchise buyers would be making a big mistake if they were not concerned about whether the franchisor they're dealing with has had professional consultations or not.


Illustration: Sonny Ramirez

This story was originally published in the August 2013 issue of Entrepreneur magazine.