It is July once again, and it is time for the largest franchise conference and expo in Asia.
Franchise Asia is happening from Wednesday, July 20 to Sunday, July 24 at SMX Mall of Asia, and it is packed with activities for franchisers, franchisee, and those aspiring to own a franchise. Here is a roundup of events you should not miss:
ADVERTISEMENT - CONTINUE READING BELOW
1. Franchise Asia Conference (July 20 to 21)
For franchise professionals and entrepreneurs already franchising their business
Listen to top experts in the industry and mingle with franchise professionals and entrepreneurs in one of Asia's largest franchise conferences. With speakers from Facebook, Uber, Zalora, Max's, Jollibee, and many more, you can learn global best practices, and share practical experiences from top entrepreneurs.
Tip: There are multiple talks, break out sessions, and round table discussions happening, so check the program or download the app (Franchise Asia Phl 2016) to plan your activities.
2. Franchise Asia Expo (July 22 to 24)
For people looking for a franchise, or want to understand the franchise industry
With over 500 local and international brands participating, Franchise Asia given you the ability to talk to the key franchises in the industry and select from among the best franchise brands.
Tip: Pre-register online for free entry into the expo.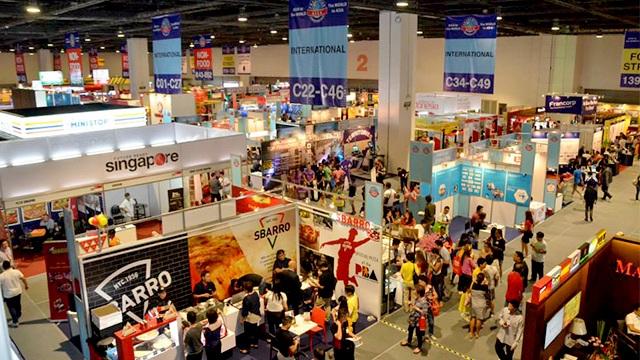 ADVERTISEMENT - CONTINUE READING BELOW
3. How to franchise your business seminar (July 23 to 24)
For entrepreneurs wanting to grow their business from one to many through franchising
If you are an entrepreneur who needs time, money or people to expand your business, this seminar will give you insights into how franchising has helped numerous businesses become national and international success stories and will help you take the first step into growing your business from one to many.
Tip: Make sure to book a slot for a free consultation with a franchise consultant after the seminar
4. How to invest in the right franchise seminar (July 23 and 24)
For franchisees looking to find the right franchise
Too many franchises choices? Learn the basics of franchising, what questions to ask, and how to know which is the right franchise for you.
Tip: With hundreds of brands exhibiting in the expo, this seminar can help you narrow down your choices and make a more informed decision.
ADVERTISEMENT - CONTINUE READING BELOW
5. Master Franchising and International Franchise Business Matching (July 22 and 23)
For entrepreneurs wanting to bring in a foreign brand
With over 50 foreign franchise brands taking part in Franchise Asia, this business matching session allows you to have one on one conversations with some of the top international brands looking to enter the Philippines through franchising.
Tip: There are limited meeting slots, so make sure you pre-register to secure meeting with the brands you are interested in!
For more information on franchising or seminars and events, contact Francorp at (+632) 638-3149, email info[at]francorp.com.ph or visit francorp.com.ph.  
*****
Sam Christopher Lim is the senior vice president for marketing and strategy at franchise consultancy Francorp Philippines; president of U-Franchise Sales & Management; and chairperson and director for special projects for Asean integration at the Philippine Franchise Association.
Photos from Franchise Asia Philippines Facebook page