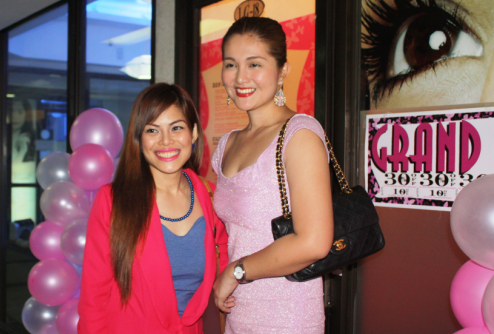 <>Are you looking for promising and profitable business opportunities? If you are having a hard time figuring out where to start this process, you may start looking at the lucrative beauty and wellness industry.
Here are three best reasons why you should consider getting into a business that offers beauty and wellness products and services.
1.    The national economy is good.

You know what happens when the overall economy is good---consumers have better purchasing power. This means that many people will allocate a portion of their budget to pamper their selves.
What better way to make women (and men) feel better about their selves other than to spend money and time in a beauty and wellness center? According to Leah Urbani, franchise manager of
Asia's Lashes
, demand for beauty and wellness services continue to rise.
"Our services attract not just women, but men, too. That is why we have decided to expand our services to offer pampering options for our gentlemen as well," she disclosed. Logically, this translates to a broader customer base (which in turn means better income prospects).
2.    We have better beauty and wellness brands.
With just several months before the ASEAN Integration takes full effect across Southeast Asia, most economists agree that now is the best time to invest in the lucrative beauty industry. And because Filipinos are naturally vain and meticulous when it comes to aesthetics, we have better and more credible businesses that can easily trump the beauty and wellness counterparts from neighboring countries.
This may mean that local beauty and wellness brands have better chances of dominating the regional market by the time ASEAN Community goes fully operational in January 2016. More customers from neighboring countries may come to the country to enjoy beauty treatments or many of our local brands may enjoy more opportunities to expand across Southeast Asia.
3.    Great deals never end.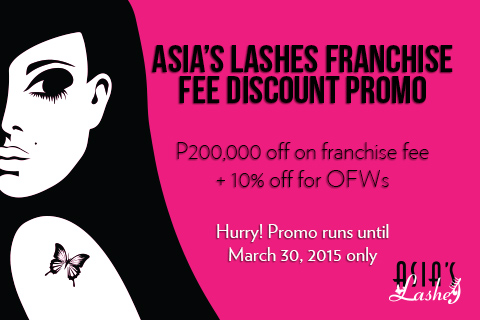 As the level of competition within the industry starts to rise, it is just logical that businesses are getting more aggressive and competitive. This is ideal for both consumers and investors.
For consumers, services can be much better at more affordable costs. For investors, there are more attractive options enticing them to invest in certain beauty and wellness brands.
Entrepreneurs can now easily get into the beauty and wellness industry by getting a franchise of a well-known brand, like Asia's Lashes. The business has been expanding its menu of products and services, making it more ideal for meticulous and cautious would-be franchisors nationwide.
The business offers more than just eyelash extension services. Asia's Lashes now offers products and services for skin whitening, hair removal, skin exfoliation, and even wellness services like body spa. And to further ramp up potential franchisors' value for their investments, it has aggressive
franchising promos
that could be hard to resist.
To get a franchise of Asia's Lashes, check out its online directory listing here.
ADVERTISEMENT - CONTINUE READING BELOW