<>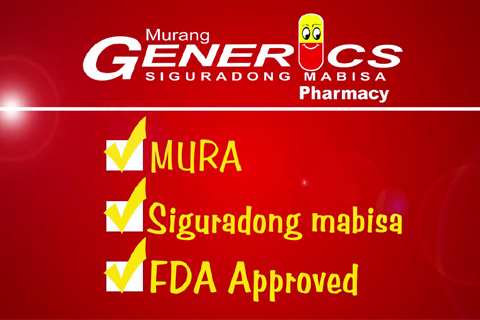 With the continuously increasing demand for cheaper medicines, different generic drugstores have grown much in number. With this, more people have gained more access to affordable medications for their health care. While this influx of players may be a barrier for entrepreneurs who want to venture in the pharmaceutical industry, Murang Generics' owner thinks otherwise. Instead, he took advantage of it---planned it thoroughly and created his own business' edge.
ADVERTISEMENT - CONTINUE READING BELOW
With over six years of providing quality, effective, and affordable medicines to the public, Murang Generics has truly been living with its tagline, "Ang sagot sa mahal na gamot" and has helped a lot of people by catering to their health needs. At present, the business has 11 company-owned branches and three franchised locations (It started offering franchise opportunities in 2014).
If you're planning to put up a drugstore business, here are the benefits you can get from buying a Murang Generics franchise:
Faster ROI

Murang Generics Pharmacy guarantees a faster return on investments (ROI). "Our franchisees approximately take only one and a half to two years to have their ROI, unlike other drugstores that usually take five years", says Lianne Cabangin, the brand's marketing officer.
Less cost
Murang Generics get their products directly from the distributors. "We don't manufacture our own branding that's why our products cost less. Other drugstores opt to make their own brand, which requires a lot of registration hence, expensive medicines", Cabangin added.
ADVERTISEMENT - CONTINUE READING BELOW
Location-wise

In terms of location, Cabangin also revealed that prime locations are still available for their brand. She stated that most other drugstores are located in congested areas, which are also saturated with too many pharmacies. For Murang Generics, interested entrepreneurs still have a variety of locations to choose from without having the same competitor in the nearest possible area. As a result, profit will be much higher as you're the only franchisee in that strategic location.
Industry experience

The concept of Murang Generics was formed in 2008. It started operating in 2009 and began franchising in 2014. This may explain Murang Generics' expertise of the business. It has carefully planned everything before jumping into each level. "We are very particular in every step we make to progress. Since brand identity is important in franchising, we need to learn the ins and outs of the business first to be able to sustain the brand," says Cabangin.
ADVERTISEMENT - CONTINUE READING BELOW
Continued support

Murang Generics also guarantees continued assistance to the franchisees. "After buying the franchise, we don't take our franchisees for granted. We offer them free consultation in case they encounter problems with the business. Through our system, we also keep track of their sales. If we see that there's a problem, we contact them and suggest solutions on how to deal with it," Cabangin emphasized.
Are you considering buying a Murang Generics franchise? Check out its online directory listing here.