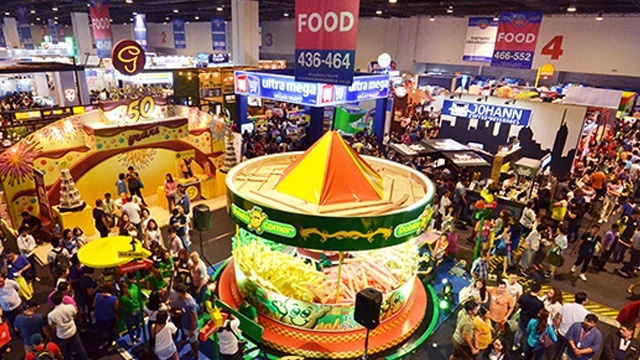 Less than one month before the biggest franchise event in Asia, it's time to start planning your itinerary for Franchise Asia 2017. With over 500 local and international franchise brands and over 45,000 expo attendees, Franchise Asia offers a wide range of opportunities for anyone. But beyond an expo, Franchise Asia also offers a world class Franchise Conference on July 19 to 20 that brings in over 1,000 delegates and over 50 local and international speakers. Now on it's 25th year, this year's conference theme is Innovate and Replicate: ASEAN Rising.
ADVERTISEMENT - CONTINUE READING BELOW
Here are seven reasons to be excited about the conference:
1. Learn how to enhance customer experience through innovation
 Whether it's innovating the Customer Food Experience (Dondi Gomez, CMO of Jollibee), the customer shopping experience (Jose Jalandoni, Ayala Land, Inc.) or the transportation experience (Brian Cu, country head of Grab Philippines).
2. Hear the success strategies of international brands
Expected to attend are representatives from BreadTalk (Singapore), The Coffee Club (New Zealand), The Pizza Company (Thailand), Naahim Bakery (Malaysia) and from innovation expert Ira Teich (consultant to Virgin Group, Walmart, Tesco and Coca-Cola)
3. Sharpen your digital & marketing skills
Top experts from Facebook, Google, Lazada, Mobext, Havas Media Ortega and Digitalfilipino.com will talk about the latest digital innovations and innovative ways to maximize your business' digital presence.
ADVERTISEMENT - CONTINUE READING BELOW
4. Be inspired by stories of entrepreneurs & franchisees 
Celebrity entrepreneurs Miriam Quiambao-Roberto (Tubo Juicery), Anthony Taverna (Ka Tunying Bakery) and franchisees such as Victoria Zhuang (Bench Myanmar), Chayapatra Thongcharoen (Potato Corner Thailand) and Lester Yee (7-Eleven) will share practical business lessons in starting and running a business.
5. Hear the latest government strategies to improve business
Speakers include Presidential Adviser for Entrepreneurship and ASEAN Business Advisory Council chairperson Jose Concepcion III and Senate Committee on Trade, Commerce and Entrepreneurship chairperson Sen. Juan Miguel "Migz" Zubiri.
6. Learn from colleagues in the industry through business solutions round tables
 A unique format where attendees can discuss specific issues with both an expert moderator and fellow conference delegates to get practical tips from experienced individuals.   
7. Learn best practices in recruitment, franchise relations and franchise expansion
 Representatives from Kalibrr, Mont Albo Massage and Army Navy will share what they know. Plus a special breakout session with Chris Simnick of Synergy Franchise Group Network USA.
ADVERTISEMENT - CONTINUE READING BELOW
*****
The Franchise Asia Conference will be held in SMX Mall of Asia on Jul 19 & 20, and will be followed by the Franchise Asia Expo on Jul 21 to 23. For more information visit https://franchiseasiaph.com 
www.franchiseasiaph.com or contact the Philippine Franchise Association at (SMART) 0999-8833732 |(SUN) 0932-8792732 | (GLOBE) 0917-8320732 | (+632)687-03 65 to 67)
Chris Lim is the Chief Marketing Officer of Francorp Philippines (francorp.com.ph); President of U-Franchise Sales & Management (www.ufranchiseasia.com); Conference Chair of Franchise Asia 2017 and Board of Directors for Philippine Franchise Association