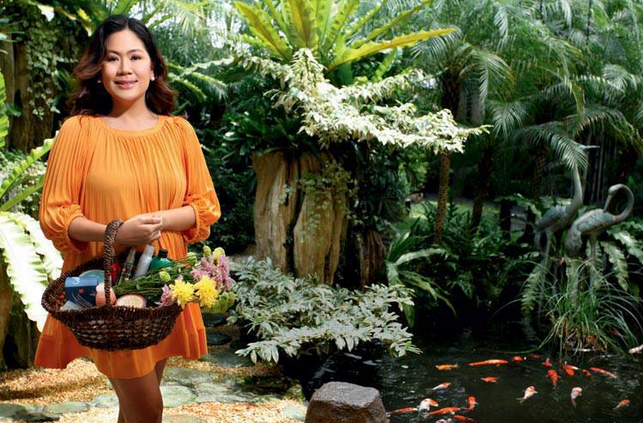 For someone whose mission in life is to make people smell good, Michelle Asence-Fontelera has been on the nose. From her single self-managed kiosk located at SM Megamall in 2001, now—almost 14 years later—her carts and kiosks number over a hundred in almost all major malls in the country.

"The P350,000 we invested in [that one] was supposed to be for our family's US trip," she recalls. "But it covered the inventory and rental deposit." No worries. With 20,000 bottles of perfume flying off the racks of Zen Zest every month, the return on her investment was quick. There must be something in her perfume.

Together with body sprays, lotions, and soaps, Zen Zest now offers a whole range of body care products like fragrance oils, aromatherapy products, and a variety of themed scents. In 2005, the company branched out into another brand, Scent Station.  According to Fontelera, "we decided to create another brand catering to a different market because Scent Station is mostly for males, while Zen Zest is mostly for females."


The brand's start

Fontelera was 23 years old when she began concocting her own lotion mixtures in her home kitchen. After some time, with the combination of passion and hard work, she was able to put up her very first kiosk, which she single-handedly managed. The business has been growing rapidly since then. Zen Zest is also currently up for franchising.

Inspiring? Yes. Easy? Definitely not. "Me and the main people in the company, we have learned so much," says Fontelera. "In those years [since 2001], we have also made a lot of costly mistakes." Also, their marketing efforts have started to grow (they even signed up celebrity endorsers like TV host Mariel Rodriguez).


Looking back, moving forward

Her focus on product development, however, hasn't changed. And that's a good thing. "Until now, we still do research and development," says Fontelera. "Although now that the company is much bigger, we are able to go abroad to do research, whereas before we'd just research through the Internet and magazines."

However, if there's probably one thing she wishes she knew from the very beginning, it's about "being aggressive in opening outlets much quicker. But it's okay," she admits, "because even if I didn't know that much before about inventories, people management, and everything related to the business, I learned from all of our mistakes that the company and myself went through." The goal, she says, is still to make Zen Zest Asia a top all-around beauty company. Smells good.


ADVERTISEMENT - CONTINUE READING BELOW
*This is an updated story (originally published on November 21, 2011).