It's franchise season once again and we kick it off with the July 2011 issue of Entrepreneur Philippines. We feature over 13 brands that bested competitors in categories like home-grown businesses and foreign franchises. We recognized salute the most promising franchises, the fastest growing franchises and the company that provides the best franchising support.

Five franchise brands have also been elected to the Hall of Fame for their continuous and undisputed leadership in franchising. Aside from this year's winners, we also listed down 30 brands in our Franchise Directory that could be the perfect franchise brand for you.

Still not convinced to check out franchising as a business opportunity? We listed down 10 reasons, from entrepreneurs themselves who are into franchising, on why you should join this profitable bandwagon.

Entrepreneur Philippines\\\' July 2011 isn\\\'t just about franchising. We continue to offer variety with articles like "In Uniform" that will help you understand how this tool speaks and is an integral part of your business, and other features that will boost your brand.

You should also check our How-To section, which will discuss how you can set up your own car wash. From doing the tedious securing of permits to finding the perfect location to materials you will need--we got it all covered.

All work and no play make a lousy entrepreneur so we listed down seven items that you can rightfully indulge in after toiling all day and night to make your business a success. Two night spots that you can visit, gadgets that you can play with (and even use in the business), and collectible leather goods and jewelry make up this month's The Must List.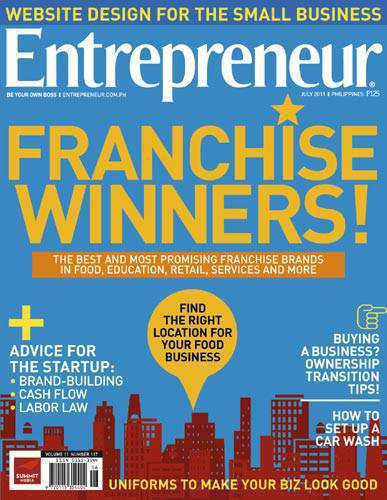 ADVERTISEMENT - CONTINUE READING BELOW