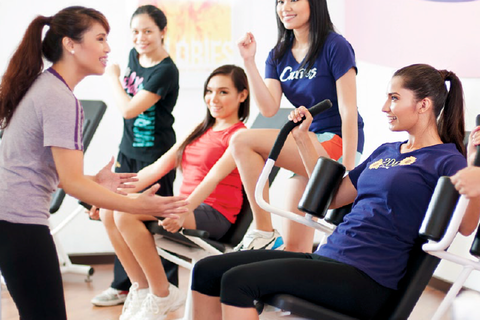 A business with almost 10,000 franchises in 90 countries could only be a food business, right? Wrong. Fitness company Curves, which started in Harlingen, Texas in 1992, possesses this distinction. Since it began franchising in 1995, Curves has not only spread across the United States but also around the globe—including the Philippines. But what makes Curves different from other fitness franchises is that it targets only women.

A company statement says: "Our mandate is no mirrors, no makeup, no men. It's about feeling comfortable and at-ease. Teenagers, women in their 70s, women of all shapes and sizes love having a place where they can work out without feeling shy or embarrassed about their bodies. It doesn't matter what you wear or how you look, there's no judgment on our circuit."

Operated by primary shareholder Peter Solomon, managing director Fe Abrihan, and marketing coordinator Czarina Sunga, Curves Philippines (on Facebook: curvesphilippines) opened its first branch three years ago at Serendra, an upscale development in Bonifacio Global City, Taguig.

"There's a market that works," says Sunga. "Naging successful sya kasi happy naman ang mga members."

Curves targets women who would like to work out but don't have hours to spend at the gym. It uses the circuit method, having machines forming a circle and allowing the member to start wherever she wishes until she completes the circle—no need to wait for a class to start. It usually takes just 30 minutes to complete the workout but there's also a Zumba program available for those interested.

New members start off with three workouts having a one-on-one lesson with an instructor to learn the gym guidelines and how to use the equipment, but after that they're on their own. There's always an instructor to "correct, compel, and celebrate" the members but, according to Sunga, "most [members] just want the coach there to motivate them."

Despite targeting only women, the gym has between 300 and 500 members every month; and due to a number of inquiries, nationwide franchising has become an option.

Franchise fees vary depending on the size of the sites which can fit either 16 or 24 stations. The cost of equipment (shipping not included) is part of the fee. New Curves owners are required to go to a Curves Club Camp—alone or with their branch managers—where they learn how to operate the gym and train their staff. For Philippine-based owners, training can be received in Australia instead of the United States.

With health becoming an increasing concern among women and time being another issue, Curves offers a chance to target a market differently by offering convenient service and a place where women can have a sense of comfort and support.

ADVERTISEMENT - CONTINUE READING BELOW
Photo courtesy of Curves
This story was originally published in the December 2012–January 2013 issue of Entrepreneur magazine.