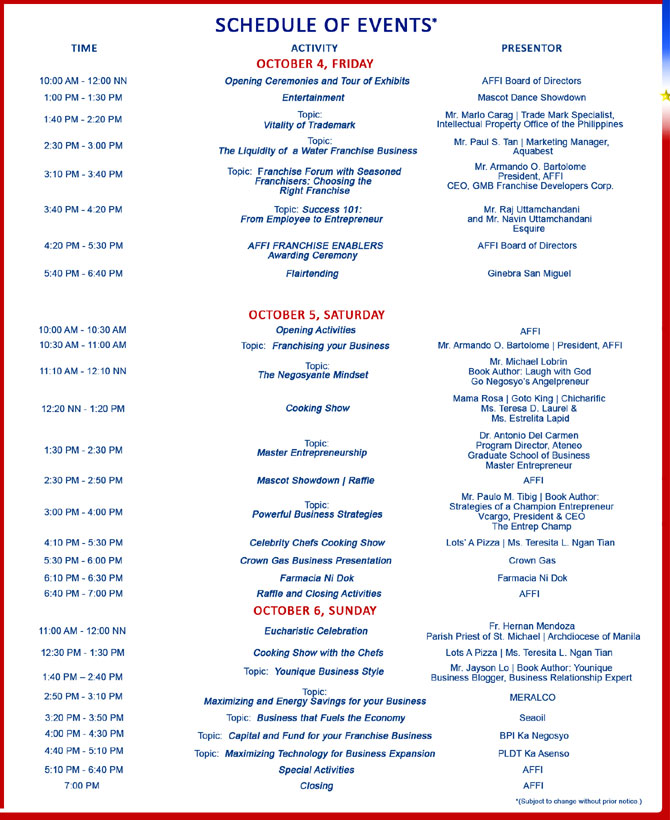 The 12th Annual Filipino Franchise Show is the country's biggest and only exhibition of homegrown franchises. The event is scheduled for October 4 to 6, 2013 at the World Trade Center in Pasay City.
Organized by the Association of Filipino Franchisers Inc. (AFFI), the event will feature more than 300 exhibitors that will showcase products and services from various regions of the country.
ADVERTISEMENT - CONTINUE READING BELOW
Visitors can look forward to unique franchising investment opportunities in food, retail and services in addition to demonstrations, seminars, and training sessions.
Who can attend?
In past events, attendees and participants have included local and foreign corporate executives, business professionals, entrepreneurs and investors from many industries including: banks and financial institutions, LGU's, academe, real estate, retail, hospitality, restaurant, and more. Attendees have also included returning overseas professional and contract workers, seafarers and on-the-sea workers, administrators from union organizations, local and foreign retirees, and newly college graduates who want to start their own business.
Armando Bartolome, AFFI President, comments, "The goal of the Filipino Franchise Show is to uplift the country's micro small medium enterprise. We expect this year's show to attract prospective entrepreneurs and investors who are interested in partaking in South East Asia's fastest growing economy."
If you want to attend the conference, you can register for free online here.On-site registration is P100 per person. Discounted on-site registration rates are P70 for senior citizens and P50 for students.
ADVERTISEMENT - CONTINUE READING BELOW