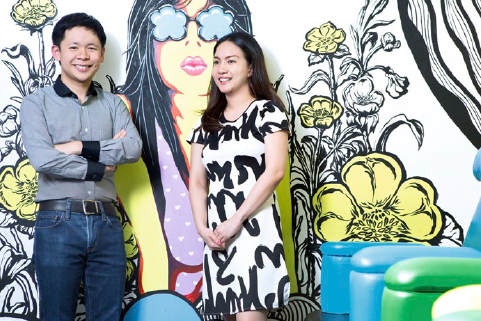 When customers step into any Beauty & Butter branch, they're in for a different kind of spa experience: They get a burst of energy from pop art-inspired interiors, free iPad use, and service from nail technicians known as Buttercups.

This was the brainchild of a group of young entrepreneurs led by Mikael Coyiuto. "Combining our penchant for pampering, affinity to technology, and love for the arts, the unique art-meets-grooming concept of Beauty & Butter came to be," says Coyiuto.

Customers and services

Launched in December 2009, Beauty & Butter now has seven outlets, four of which are company-owned, and three franchised. Plans are underway to open more outlets. The brand targets locations in malls in major cities and key urban areas.

Catering to students and young professionals aged 18 to 35, Beauty & Butter offers services from facials (P50-P350), manicures and pedicures (P230-P900), to nail art (P280–P500), waxing (P220–P700), hand and foot spas (P350–P500), and massage (P100–P600).

"The gel manicure is a crowd favorite. We were one of the first salons to offer that in the Philippines, and we are glad that the service is something that our customers keep coming back for," says Coyiuto.



Franchising opportunity

The company started franchising also in 2009 to make the nail salon accessible to more people. "Franchising was a means for us to get more people to work hand in hand with us as we move toward expansion. We recognize the fact that the nail industry has a lot of players who each offer very unique services, but we are confident that we have something great to offer to the market."

Take Beauty & Butter's store interiors, for instance, its pop art meets graphic design styling is an eye-catcher for consumers looking for a one-of-a-kind nail spa experience. Once the customer enters the store, he is given a wide selection of nail polish brands to choose from. "What separates us from the rest is that we carefully select the products that we offer to our clients. We take pride in having organic services and products that are not only great for the skin, but safe for the earth, too," says Coyiuto.

In looking for franchisees, he evaluates how interested the applicants are in the industry. Some franchisees started out as customers and they loved the services so much that they decided to have their own franchise, he says.

"The business requires a lot of hands-on training, and franchisees have to be willing to put the time and effort to keep up with the ever-evolving trends for nail grooming and care," he says.
ADVERTISEMENT - CONTINUE READING BELOW
Main photo shows Mikael Coyiuto and marketing manager Nika Evangelista. (Heidi Aquende)


This article was originally published in the November 2014 issue of Entrepreneur magazine. Subscribe to the print or digital version here.