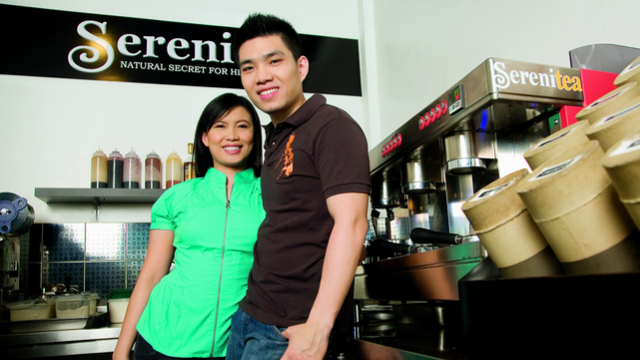 A year after graduating from the De La Salle-College of Saint Benilde, Juliet D. Herrera and her boyfriend, Peter L. Chen, wanted to set up their own business. They thought of setting up a café, but seeing that the market had quite a number of coffee shops, they decided to go for a refreshing alternative—teashops.

The couple, however, did not want to offer tea products that were made the traditional way, with tea leaves or tea bags steeped in water. Herrera and Chen decided they would use a customized espresso machine to make tea. With a startup capital worth about P1 million, they put up their first teashop on J. Abad Santos Street in San Juan City in December 2008. They decided to call it Serenitea Cha Kitchen.

Serenitea aims to market different kinds of tea as a healthier option to soft drinks, coffee, and smoothies. "Peter is originally from Taiwan, and when he went home to Taiwan once, he noticed that there was one tea store in every block," Herrera says. "He wanted to duplicate that here in the Philippines."

To ensure that only authentic Taiwanese tea is served, Chen got training from teashops in the island nation, from where he sourced many of the ingredients and things that they use in Serenitea—from the tea bags to the pearls and crystals, to the cups, covers, and straws. "We want our customers to experience and taste the tea that Taiwan is known for. We did not want to compromise the quality of our products," says Juliet.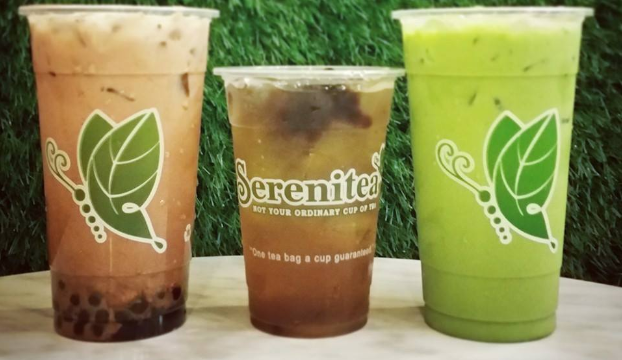 ADVERTISEMENT - CONTINUE READING BELOW
Interesting menu
Serenitea has a wide variety of concoctions to suit their customers' tastes, with prices ranging from P65 to P115. A must-try is the Hokkaido Milk Tea, which is the store's bestseller. Those with more adventurous taste buds can try the Yakult Green Tea or Passionfruit Yakult. The Fruit Tea selection is ideal for those unacquainted with the taste of tea—flavors like Grapefruit Tea, Calamansi, and Raspberry combine the familiar with the new. For those who want a quick dose of relaxation, a cup of freshly brewed tea or Serenitea Latte might do the trick. 

After making their pick, customers then choose how sweet they want their beverage to be, from the standard (100%) to no sugar at all. Customers can also choose what "sinkers" they want to in their drink. They can opt to add tea pearls, egg pudding, crystals, black bricks, or lime jelly. 

They also serve what Herrera calls the equivalent of Taiwanese street food: pepper tofu, pepper sweet corn, chicken chop, pepper potato, and fish and fries. The pepper is also imported from Taiwan, she adds.


ADVERTISEMENT - CONTINUE READING BELOW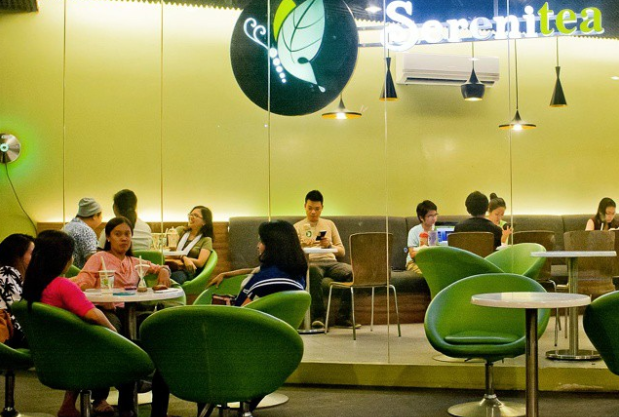 Choosing the first location
The couple thought San Juan was the best location to set up their business because it is near schools and has a sizeable Filipino-Chinese community. "The Chinese are known to drink more tea than water," Herrera explains. "But we had a hard time attracting customers during the first six to eight months because people were not too keen on trying something new. But eventually, the number of customers started to pick up." 

Word of mouth, she says, is still the most effective marketing strategy for Serenitea. Sales began to rise when people blogged about the store's products and praised how it was the ideal after-dinner stopover before going home. Seeing the potential of their products, Herrera and Chen opened a second branch at BF Homes in Parañaque City in October 2009 and a third branch on Banawe Street in Quezon City a month later. 

Now, after more than six years, the milk tea shop has become an aggressively growing chain in the country. To date, it has 37 branches, of which 17 stores offer delivery services. The network has already expanded to the provinces as it now operates one store each in Cebu City, Davao City, Baguio City, and Clark, Pampanga. It opened its door to franchising in May 2013 when it opened its first franchised location in Cebu. 
ADVERTISEMENT - CONTINUE READING BELOW
Main photo by Dairy Darilag; other photos from Serenitea's FB account