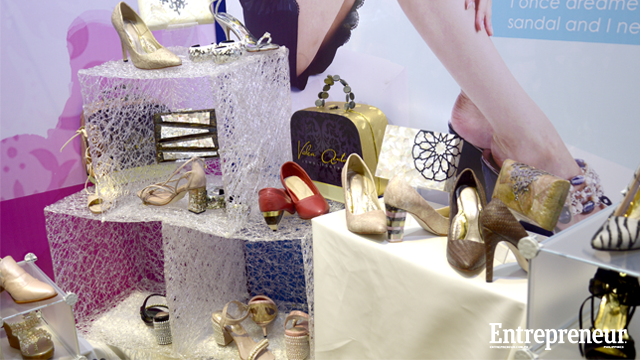 Have you ever wished you can have new shoes with just one call?
This premium and smart business idea is what pushed Valen Antoine CEO May Valencia to diversify her current shoe business into a more personalized service.
"When I gained weight, I had a hard time to find shoes that fit me. Big footed women can relate to this," Valencia told Entrepreneur.com.ph. "So I thought, why not create something that will solve the universal problem?"
ADVERTISEMENT - CONTINUE READING BELOW
Fueled by her frustrations, Valencia then thought of offering customized shoes for her clients with a personal touch. Unlike how retail stores go, Valen Antoine's staff may personally measure a client's shoe size then build a plastic model out of their feet. This way, anytime the client may order shoes, he or she can just call the store and wait for the final product in his or her doorstep.
ADVERTISEMENT - CONTINUE READING BELOW
"We offer service and comfort for our clients. We want them to feel special so your feet get measured for a customized fit," Valencia said. "We can create any shoe type a client may wish, but for a price, of course."
The Cebu-based shoemaker also aspires to place the Philippines back in the map of the industry, as it was once touted as the "Italy of Asia."
"Your shoe may have the best leather but without the right combination, it will look cheap," Valencia said. "With the right design, any leather, even synthetic, can make any shoe world-class."
Valen Antoine's shoes boast intricate craftsmanship, built with memory foam for ensured comfort.
Their customized shoes retail for Php 2,500 per pair for the first fitting for women in view of the foot replica the store has to create, while it's Php 5,000 for men. The price may vary for the succeeding pairs depending on the design and material that the customer wants.
ADVERTISEMENT - CONTINUE READING BELOW
Valencia is currently looking for partners to franchise the business in Metro Manila to further expand its reach. Valen Antoine has offices in Cebu and Bonifacio Global City.
*****
Photos by Janaeka Sam Navalta