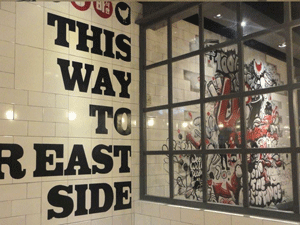 In the business of food, coming out with a unique concept to attract diners can be a hard task to accomplish. Competition is cutthroat and diners are savvy. The Philippine market is already riddled with homegrown and overseas food franchise concepts doing well at every price point. It then takes more to surprise and convince people to go back.
ADVERTISEMENT - CONTINUE READING BELOW
4 Fingers Crispy Chicken, the newest franchise from Singapore to open in the metro not only surprises but offers a new way to enjoy a Filipino favorite - crispy chicken- by pairing it with a fun design concept reminiscent of the New York subway scene complete with graffiti walls, a mural reflecting Koreatown, industrial lighting, and ultra-hip music. The four walls of eye-catching graffiti were hand-painted by the artist collective, Weewilldoodle in the first 4 Fingers Crispy Chicken branch in the country located at SM North Edsa. To see photos, click here.
[related|post]4 Fingers Crispy Chicken is all about crispy chicken coated with soy garlic and spicy sauce. Alfonso Hortaleza, president of Mindblowing Delicious Food Corporation, brought the 4 Fingers Crispy Chicken franchise to the Philippines to introduce Filipinos to the crispy chicken that took Singapore by storm. "4 Fingers Crispy Chicken's combines a unique concept with great food, so I thought of bringing it to the country to share it with Filipinos who love crispy chicken wings," Hortaleza said. This is Alfonso\\\'s first venture into the food industry. He discovered the brand during a business trip in Singapore and quickly fell in love with the concept.
ADVERTISEMENT - CONTINUE READING BELOW
Launched in Singapore in 2009, 4 Fingers Crispy Chicken was created by four foodie friends with a shared passion for fine food and wine. Using a secret recipe that infuses various Asian spices and flavors, the foodie friends cooked up the 4 Fingers concept.
Why the name 4 Fingers? Good question. Company director/founder, Jord Stefan Figee says, "We chose the name because it is recognizable and easy to remember." 4 Fingers Crispy Chicken also started with four friends getting together to launch a business and coincidentally, chicken feet have four toes.