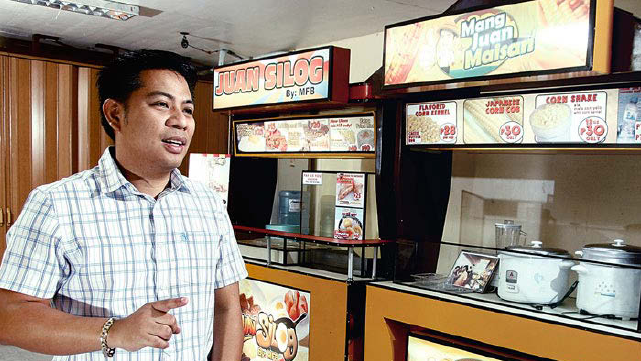 Let's face it—Pinoys love street food. They go for fried squid balls, calamares, or isaw and pair it with a cup of buko juice, sago't gulaman or any other flavored samalamig.
Eric Cabrales is no exception. When he was still a Commerce undergrad at St. Louis University in Baguio City, he liked to snack on tokneneng—the hard-boiled eggs dipped in orange batter, then deep-fried—sold by street peddlers. "I told myself, once I put up my own business, I'd probably start with this concept," he recalls.
ADVERTISEMENT - CONTINUE READING BELOW
That's exactly what he did for his first food cart concept in 2000. But instead of selling on the streets, he set up in a mall—in Robinsons Starmills Pampanga. He satisfied Pinoys' craving for street food fare, but in a clean and hygienic setting. The idea was such a hit that the following year, he already had 15 franchisees in the area.
From one cart to 25 concepts
What started with one tokneneng food cart turned into Metro Foodcart Business Corp. (MFB), which now boasts of 25 food cart concepts ranging from silog meals, burgers, dim sum, steamed corn, fried balls, buko juice and other types of beverages. "All the concepts that we develop here, they are also my favorite things to eat. I don't develop a concept that I don't personally eat," Cabrales says.
As a marketing ploy, he used "Juan" in the trade names—Buko Juan, Juan Silog, and Juan Samalamig. "Juan signifies the Filipino people," he adds, noting it is an effective marketing tool. "When you hear Juan, you already think of MFB."
ADVERTISEMENT - CONTINUE READING BELOW
Affordable franchise packages
He also made sure the franchise is affordable. For their smallest cart, a franchisee will only need P90,000 in startup cost, which already covers the cart and the franchise fee. Bigger carts, like for Buko Juan, can go up to P150,000.
Cabrales says the company is able to keep costs low because it has its own commissary and cart assembly. The commissary produces 60% of the products, like sauces and seasonings.
Contractors and graphic artists are also kept in-house. "We save a little by keeping these things in-house. But the main advantage of it is really customization and better communication," he explains.
*****
This article was originally published in the May 2014 issue of Entrepreneur magazine. To subscribe, click here.  
Photo by Jun Pinzon